I bought a home back on December 10th of 2008.  That is almost exactly 5 months to the day and I am still receiving those automated MLS listing alerts from the first agent I ever spoke to about buying a new home.  Being in real estate now for almost a year I find them sort of fascinating because I am curious if I actually bought at the bottom of the market in my town.  Turns out I didn't, but that isn't the point.  The information (listings) contained in these emails can be very powerful motivators to get an active buyer or someone on the fence to engage an agent.  The most important reason is that the information contained within is the most accurate and trusted source for new listings and  listing status changes (price drops and under contract).  With such a powerful vehicle for information, I wonder why it misses the mark on so many levels for the average home buyer.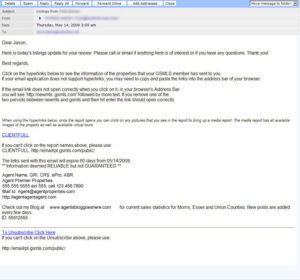 (Click to Enlarge)
I have compiled my top 5 list of issues with some suggestions for improvement:
1. Isn't visually engaging
I understand this is focused on just one thing, listings, but it doesn't mean it has to look awful.  This is a plain text email and doesn't use an HTML format which could add a ton of visual interest and just make it look so much more professional.  Also there really isn't an information hierarchy as all the text is relatively the same size and rarely uses bolding or italics to emphasize important information.   Most importantly, why aren't there pictures of home in line?
2. No recognition of my home buying status
If I already purchased a home then you have to be concerned with buyer's remorse.  The last thing I need to see is a comparable home for less money in a better neighborhood.  You should remove me as soon as I close or at least give me the option of continuing to receive these alerts and be upfront about how I opt out when i just don't care to receive them anymore.
3. Vanilla customization
The email opens the same way EVERY TIME!
"Dear Jason,

Here is today's listings update for your review. Please call or email if anything here is of interest or if you have any questions. Thank you!

Best regards,"
Here's a suggestion; how about you make the real estate buying experience customized and personal.  It would be nice if my agent reviewed the listings and made comments like "just saw 123 main st. and you won't like the backyard."  Instead they are letting technology do the work and leave it to me to reach out my agent if i see anything of interest.
4. Too much technical language used
The main purpose of this email is to make me click the "CLIENTFULL" link.  Shouldn't it be "View today's NEW listings."  If it were an html email you could insert a nice big, shiny button to get me attention to the most important action Also if the instructional copy is way too prominent and technical for the avg consumer.  Lastly, I see terms like "GSMLS "and "ID55512555"; is that even necessary?
5. Missing valuable data
The MLS has a wealth of data that would be relevant other than just new or revised listings.  I would love to know what has recently sold or gone under contract as a start.  I am eager to consume as much information so I can make the best offer given all of the contributing factors.  To their credit I did have an agent who did run those types of reports and send them to me, but I had to ask.
As you can tell I think this marketing vehicle has a world of potential that isn't being utilized to its fullest  I would imagine the execution of these emails varies by MLS and without the ability to get this data from anywhere else, there isn't any motivation for them to improve.  In the end, we the consumer lose out.