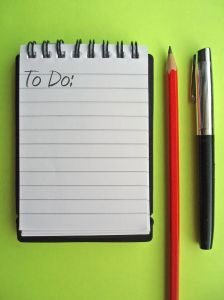 Okay, I admit it. It's rough out there, it's rough in here, it's rough everywhere.  That doesn't mean we can give up. I think there are a lot of agents and managers out there who have given up. They may still technically have a real estate license or hold a managers title, but they are not actively pursuing excellence in the real estate profession.
There was a recent quote in the New York Times cartoon section (which I came across via Seth Godin's blog) that said:
"There's a lot I want to experience, but not a lot I want to actually do."
I want to experience success, but am I willing to actually do the hard work that it will take? Am I actually willing to change my attitude and explore doing things differently than in the past or things I haven't had to do before? Am I willing to do, in order to experience?
Here are a couple things I would start doing in the New Year if I were managing a real estate office now.
1) I would launch group prospecting events. Back in the day we used to call them cold calling parties. Same idea with a twist. Get a group of agents together for 2 hours of making contacts with people. Phoning their sphere of influence, phoning past sales, phoning all of their current clients, phoning for sale by owners, phoning their online inquiries…  Track all the calls that the group makes, track the appointments and the call backs. Offer each other support and encouragement. Make it fun and a positive experience. At the end, buy a $20 pizza.
2) Call all of the agents who sold one of your office's listings last year and thank them. Wish them all the best for the upcoming year. Remind them why this is one of the best careers in the world!
Here are a couple things I would start doing in the New Year if I were an agent right now.
1) Find or start a support group. I would need to surround myself with other agents who were doing well and being positive. I would need that energy to stay focused. OPP- Other Positive People. I met three agents last week who told me this was their best year ever. Those are the agents I want to spend time with and lean on for support and motivation.
2) I'd get in the best shape of my life. Not physical shape (but I'd like to do that too!), but mental and business shape. I'd polish and practice every dialog for every situation; I'd write and rewrite every ad, every web page, every letter and every drip email to make it the best it could be. I'd find the experts and learn from them. I'd work on this daily. I'd be ready for every inquiry and every client.
I'm looking forward to the New Year. The changing of the calendar is like a cleansing, a fresh start. Here's to 2009!