In examining a Profit & Loss Statement and Productivity Report of a single office company, it is easy to understand the manager's effectiveness in recruiting, controlling costs, PPP and of course ROR among other things. Since all measurements are equalized as a function of percentage of gross revenues, these types of views effectively measure how well managers create profit and manage valuable resources.
For multi office companies that desire to go into more depth in analyzing branch managers to determine individual 'ranking' (essentially quartiling/segmenting the managers) against one another's performance, the following approach is offered. The model below presents a reasonable way to analyze and compare results across offices of varying sizes by measuring year over year change in results. In the example, managers are compared in their ability to grow in four KPI (Key Profit Indicator) characteristics over time (other measurements can be substituted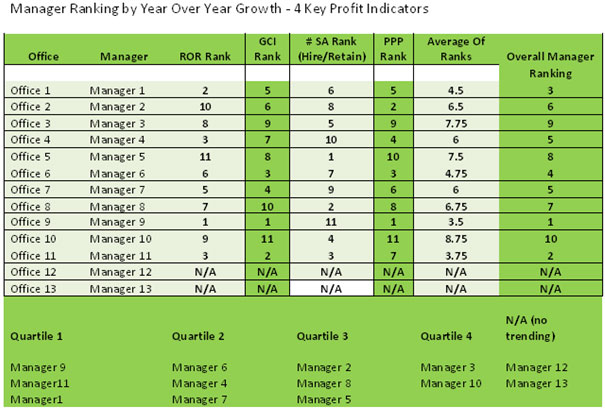 (Click for larger image)
Each branch manager/leader is ranked by year-over-year positive growth in;
Return on Revenue (ROR)
Gross Commission Income (GCI)
Net change in Sales Agent count (# SA), and
Per Person Productivity (PPP)
An overall ranking is performed by first taking the sum of ranks for each manager and then determining the manager's overall ranking among the entire group of office leaders. Note that although manager #9 ranked in the number one spot overall, their performance in "# SA Hire/Retain" ranked 11th out of 11 (subtracting the newer offices that have no trending). Obviously, the four characteristics in this example are non-weighted and the introduction of weighting could offer benefits. For example, weighting could be introduced to support company initiatives, compliment compensation structures and measure success in driving business to Core Services.