While 4th of July week usually send lots of eyes to the skies in search of spectacular fireworks shows, in Arizona, Mother Nature took center stage.  Haboobs — or severe sand storms – darkened the midday skies over Phoenix and extended 100 miles wide.  The images coming out of the Grand Canyon state looked more like something created in a Hollywood movie studio than a real-world event.  Thankfully, no deaths or serious injuries were reported.
A dust-up of another kind may be looming.  The real estate industry is feverishly discussing the impending change in October to the size of loans eligible for government backing.  CNBC's Diana Olick investigated two conflicting reports on the impact of such modifications: one from the National Association of Home Buyers that suggests these limits will reduce demand and lower prices; the other from George Washington University that states that overall, mortgage shoppers will not be affected.  What do you think?
Move over Brangelina and TomKat, we may soon have "Fandie."  The California Legislature is introducing a bill to merge Fannie Mae and Freddie Mac, into a joint entity that will "purchase mortgages and sell them to investors as securities that are government-backed."
A day after saying during Wednesday's Twitter town hall that he was "going back to the drawing board" to help struggling homeowners, President Obama announced two programs for unemployed homeowners, providing them a 12-month forbearance on their mortgages.
Kitchens are of course one of the most important — if not the most important (depending on whom you ask) — room for house hunters. Designer Rita Konig explores kitchens with character and offers advice on how to spruce up the space.  In a nutshell: "Treat the kitchen as a real room. Play down the appliances—they are a real buzz kill—and keep as much below the counter as you can."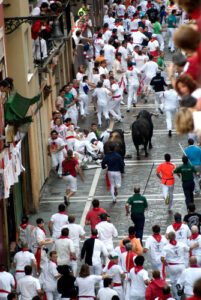 Congratulations to South Korea for being chosen as the host of the 2018 Winter Olympic Games!  It is the first time for the winter games in South Korea, having served as host city for the summer games of 1988 in Seoul.
In closing, the annual Running of the Bulls took place this week in Pamplona, Spain.  Ol? to the Festival of San Fermin made famous by Earnest Hemingway.