One year ago this week, the Deepwater Horizon oil spill devastated the Gulf of Mexico region. Today, tourism is starting to return, a welcome sign that the area 's fragile economy is starting to recover.
Another welcome sign came last month, in the real estate market's own March Madness of sorts. Existing home sales were up 3.7 percent, housing starts rallied 7.2 percent and building permits rose 11 percent. This is something we can all cheer about!
Come October, Fannie Mae and Freddie Mac will decrease the maximum – or jumbo– loans they guarantee in high-cost areas. Home buyers looking to purchase a house over one million dollars will need to put down $370,000 up front, $100,000 more than the current requirement.
What's the trend in furniture these days? If a growing number of offerings at major furniture sellers are any proof, it is all about "accessible custom furniture." In a move away from mass-produced sofas and dining sets, shoppers are increasingly getting paired with designers—thanks to Etsy and CustomMade—while other big-box retailers are expanding their selections with more unique offerings. Speaking of unique furniture, check out some of the highlights from the Milan Furniture Fair.
What if I told you about the next must-have for your home? It has speakers, a foot-warmer, is environmentally friendly and is…the latest toilet from Kohler.
Curious how green your city is? In a special for USA Today, Janet Kornblum looks at some of the factors that weigh into how environmentally-sound a city is, such as access to public transportation and density of living space. How does your community measure up?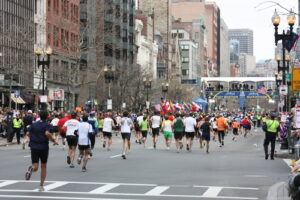 In addition to completing a feat of its own, runners in Monday's Boston Marathon went on an interesting tour of the local real estate market, as the Boston Globe's Scott Van Voorhis points out. From the starting line in a middle class neighborhood to winding around some of the "most expensive suburban and urban enclaves," any runner with a love of real estate had something to help pass the time! Surely the winner, Kenya's Geoffrey Mutai, missed the view as he whizzed through the race, crossing the finish line in a staggering 2 hours, 3 minutes and 2 seconds, setting a world record. Impressive!