Social media has increased the expectation among consumers that your real estate business will have a credible online presence. Consumers actively using the Internet for their real estate search are making assumptions with the click of a mouse.
Those conclusions are based on first impressions made through your Facebook, Twitter, Google+ or Pinterest pages. Visitors not only critique who you are due to the design and content found on your social sites, but the approach, voice and tone of the page.
Most importantly though, they are looking at whether you maintain a consistent presence.
Why Social Media Isn't Working for Your Business
Being present and active in your social media marketing efforts will require a commitment to sharing, engaging and connecting with consumers on a daily basis.
For many, this becomes the stumbling block to success. There is a lack of planning on the front-end and no strategy to drive any achievable or measurable goals forward.
Setting attainable goals allows you to see the big picture. Not only does it incorporate social media into your overall marketing strategy, but it also keeps your "eye on the prize."
Knowing your end goal and desired results allows you to focus your time, energy and money on what is working rather than simply throwing ideas at a wall and hoping they stick.
How to Fix a Failing Social Media Marketing Strategy
Are you currently using social media to market your business and struggling to create momentum? Here's the good news and the bad.
There is no "one size fits all" solution. For example, if you are a real estate professional in Orlando, FL and you are busy tweeting away, but your consumer is not, chances are your message is getting lost in the noise.
Just because Twitter works for the business down the street does not mean it will work for yours. Identifying which social channels your target audience is using and then knowing how to connect with them is crucial to social media success.
The good news is that with the right plan in place, social media can bring remarkable results. So why build a solid social media marketing plan for your business?
Establish a powerful online reputation and presence
Reach consumers unreachable by traditional marketing methods
Be available where (and when) the consumer is
Make it easy for consumers to connect and engage with you and your business
Provide content that speaks to the exact consumer you are trying to reach
Position your personal brand as the local real estate authority
If you are ready to kick your social media efforts into high gear, enter our social media makeover sweepstakes today! Together we will analyze and define what is working and what is not, what the brand called YOU really is and how you can shine a spotlight on all that goodness for the entire world to see.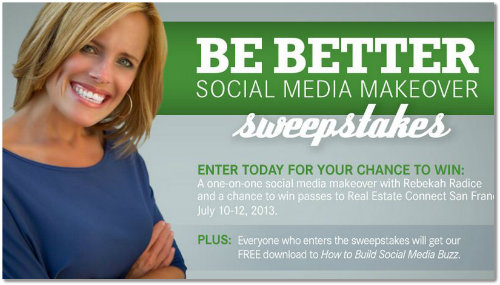 Enter today for your chance to win a social media makeover and download your FREE getting started guide to the big four – Facebook, Twitter, LinkedIn and Google+!