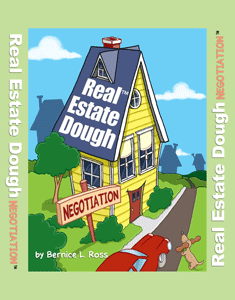 One of the key skills required for success in real estate (and life) is the ability to effectively negotiate. Historically, this skill was honed in the field by agents who had to watch, listen and learn on their own. But those days are over, put to rest by a new card game created by long time industry coach and well-known author Bernice Ross. The game is called Real Estate Dough and is described as a card game that features a dozen  different types of properties that players are taught to transact over.
The game starts with each player receiving a portfolio of properties. As each player takes their turn they can sell and/or acquire properties with the other players. Elements of the game include negotiating sales prices, sending and receiving referrals on transactions, 1031 tax exchanges, escrow, and several other elements familiar to the real estate practitioner. The object of course, is to successfully negotiate with other players to determine how much Real Estate Dough you will receive for your exchange or referral.
The winner of the game is the one player who emerges with the most real estate dough collected.
For those who attempt to play Real Estate Dough and end up with a pocket full of flatbread, Bernice has authored a Real Estate Dough book to serve as an accompaniment to the game. As Bernice puts it, the book is "packed with recipes for success that will help every agent unlock the door to a great business and a great life!"
While Real Estate Dough is packed with sweet goodies that will fill you up with great advice, the best part about them is that they contain no calories.