As more and more consumers turn to their mobile devices when researching real estate, brokers and agents across the U.S. are searching for the best approach or the best way to optimize their presence on the smaller screen.
In fact, a recent report from Google and the National Association of REALTORS®,"The Digital House Hunt: Consumer and Market Trends in Real Estate," shows how actively buyers are using mobile in their home search.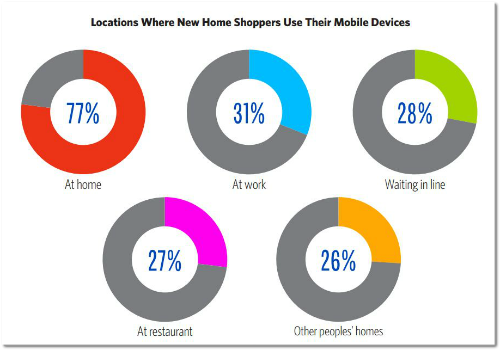 So what is the best approach as a broker to optimize your website for mobile users? With so many options, it can be paralyzing.
This was the topic of discussion at our Beta Broker Hangout this week. I had the pleasure of hosting two brokerage founders, Dominic Morrocco, co-founder of M Squared Real Estate in Washington, D.C., and Miguel Berger, president of Better Homes and Gardens Real Estate Tech Valley in Albany and Saratoga counties, N.Y.
During the hour-long discussion, each speaker shared ways they've optimized their sites for mobile, best practices, consumer insights on usage and more.
Optimizing your website
At M Squared Realty, their team has already discovered that 67 percent of their website traffic is coming from mobile devices. The company's approach to mobile has been to design responsively, which means designing their website in a way that it fluidly changes according to the user's screen size. Doing this has enabled them to ensure that consumers are able to view content regardless of screen size and also maintain a consistent brand experience across devices.
In fact, just last week, M Squared released Listing360, the company's own custom responsive single-property website platform. (For an example of what a single-property website looks like on the platform, visit http://msqrealty.com/l360/1508-swann-street-nw/on a mobile device.)
These sites give consumers a full view of the property and neighborhood while  working and looking great on any device. In addition, M Squared agents have a listing control panel that enables them to manage the sites from their mobile devices.
Miguel's approach to mobile has been to differentiate and not fall into the "me too" frame of thinking. He also feels that the best way to optimize for mobile is to design responsively so that your site is easily viewed on all screen sizes.
Brand consistency
Both Miguel and Dominic spoke about the importance of consumers seeing consistency across devices when it comes to mobile. Anything less risks diluting the brand.
Miguel said that in order to maintain consistency, it's ideal to use one company for desktop and mobile websites so each is not working in a silo.  
For Dominic, consistency is one of the top reasons M Squared custom builds their own technology.
Virtual office
Dominic likened a broker's mobile website to a virtual office. Since mobile is fast becoming the main entry point to a website, you want to make sure you're welcoming and enabling them to find all the information they're looking for before they want to reach out for a relationship.
Choosing vendors
Miguel summed up his stance on choosing vendors as, "Make sure you have experts doing expert work."
He elaborated that real estate brokers should be focused on running their brokerage and hire accordingly. In order to seriously approach mobile in a way that will result in a competitive advantage, brokers will need to either hire right or choose the best vendor for the job.
But choose those vendors wisely.
Dominic said that brokers should be looking at vendors more as long-term partners because what's new today will be outdated in just 2-3 years, maybe less. He suggested to think about mobile more like maintaining a virtual office than building a mobile website.
Consumer insights
Dominic had some interesting consumer insights to share. He said that most of the traffic to the M Squared website comes from smartphones in the morning, desktops during the day, and there is a huge uptick in tablet use at night.
Then, of course, there is another huge uptick in smartphones on Sundays.
This is specific to their brokerage website, but is interesting consumer data that any broker could find useful.
Bottom line
There's no one right answer to mobile when it comes to brokerage use right now. But as Miguel said, it's important to try out what makes sense and know it's time to stop when a good fit is reached.
Watch it here and make sure to join us next time!
Join us for our next Beta Broker Hangout on Monday, August 5, 2013, at 2:00 p.m. ET/ 11:00 a.m. PT on "Building a Magnetic Company Culture."  
For more information on the Beta Brokerage Project, visit NextGenBrokerage.com.