As part of our ongoing Beta Brokerage project, I will be hosting our next Beta Broker Hangout on Google+ where I will discuss "Winning Mobile Strategies" with two successful brokers.
With a substantial portion of website visits happening on a mobile device, it has become increasingly important for real estate brokerages of all sizes to master the medium.
A report from Google and the National Association of REALTORS®,"The Digital House Hunt: Consumer and Market Trends in Real Estate," uncovered trends and insights around digital media usage among home shoppers.
The research extracted from NAR's 2012 Profile of Home Buyers and Sellers as well as internal Google data and research conducted by Google and third-party marketing firm Compete, shines a light on the importance of mobile in the homebuying process.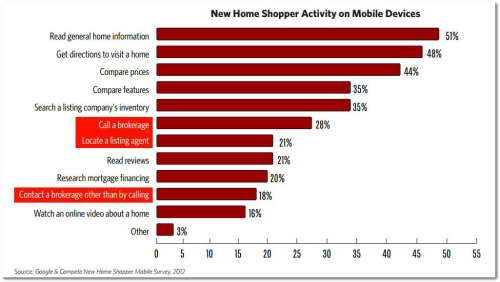 Join our 1-hour discussion with representatives from two brokerage companies who will explain successful ways they have approached mobile and incorporated it into their overall strategy.
When:
Monday, July 1, 2013 at 2p.m. ET/11a.m. PT
Who:
How to join:
Sign up for the event to be prompted to watch the live hangout on July 1, 2013 at 2:00 p.m. ET/11:00 a.m. PT.
I will take questions from viewers during the discussion via Twitter so if you can't make the hangout, follow along on the hashtag: #bhgre.
Beta Brokerage is an ongoing project in which we engage with entrepreneurial brokers from outside the Better Homes and Gardens Real Estate network to share and discuss innovative approaches to the real estate business to benefit the industry as a whole.
I hope you can join us!