Fifty years ago yesterday, John F. Kennedy spoke the famous words during his inaugural address that would help inspire a generation: "…ask not what your country can do for you — ask what you can do for your country."  This call to service led to the creation of the Peace Corps.  Coincidently, the founding director of that organization, R. Sargent Shriver, passed away this week.
Regarding those who serve, it appears there has been a great disservice of the real estate kind done to our servicemen and women.  J.P. Morgan Chase, in violation of the Servicemembers Civil Relief Act, "wrongly foreclosed on 14 active-service military families and overcharged thousands more on their mortgages." The bank admitted its mistake and is resolving the issue.
Out of Washington D. C. this week came two ideas on how to avoid a double dip in the housing market: Tighter regulations on what firms can do with the loans they make and a new approach to how home loans are managed by banks.  Let's hope these suggestions can help us learn from previous mistakes.  The Obama administration also announced efforts to help struggling homeowners renegotiate their mortgages in hopes of preventing more foreclosures.
So what is the "New American Home?" Revealed at the International Builders' Show, the annual display highlights the newest trends and technologies available. In a true sign of the times, this year's home is green, multi-generational and complimentary of indoor-outdoor living.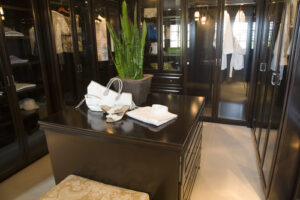 I wonder what the closets in the dream home are like.  Although once a place to hang clothes as much as a jungle of unwanted objects acquired over the years, closets are starting to make big waves and hold bragging power. Homeowners nationwide are upgrading their closets to "boutique" or "dressing room" status complete with sitting areas, TVs and breakfast bars, reports The Wall Street Journal. I can definitely see upgraded closet space, just like upgraded kitchen appliances, going far with would-be buyers.
But, the last word in real estate is still location. Check out Bloomberg BusinessWeek's 10 best places to raise a family based on safety, schools, expenses and activities. Niles, Illinois ranks in the coveted top spot.
Finally, if you ever feel like you overpay for household objects, ShelterPop released a guide on when to buy everything from grills to bedding to carpet, based on when the best deals are available. Check it out!