This week kicked off with Cyber Monday, one of the busiest online shopping days of the year. Experts say e-commerce sales may have reached $900 million as people searched for incredible deals.  Did you find any?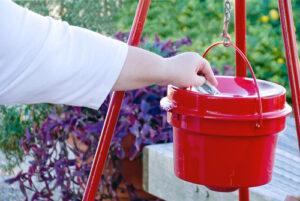 The holidays are a season for giving.  This year, there is a twist to the old way of giving with cause-related social media campaigns.  The most symbolic of the season, perhaps, is the Salvation Army's Red Kettle, which has an online program with an array of features, including mobile texting, an iPhone app and Facebook page, among others.  Of course, the emblematic bell ringers will still be outside retail stores and on city streets.  It's a great way to give back to the less fortunate!
Do you follow your favorite celebrities on Twitter and Facebook?  If so, don't be alarmed if you see many of them go dark.  As part of a fundraiser for World AIDS Day, many celebs– including Justin Timberlake, Lady Gaga and Kim Kardashian– will sign off social media until $1 million is raised.  It's great to see these personalities using their celebrity for a good cause!
If you or someone you know is a social media fanatic, you might want to check out new shoe designs from Adidas, which come in either Facebook or Twitter styles. What do you think: Fad or flop?
As you begin to develop advertising strategies for the New Year, strongly consider allocating budget to social media. According to new findings on MediaPost, "social media has already attained the kind of advertising influence and acceptability as advanced forms of TV advertising such as video-on-demand and HDTV."
The agency that put man on the moon has been named the most social media and Web savvy entity in a recent report. Yes, we are talking about NASA, which has a viewer-customizable website complete with streaming video and interactive features. Is it any surprise that rocket scientists have a high digital IQ? What parts of NASA's online strategy can inspire you to revamp your own website?
Family Ties…The majority of Americans still rank family as the most important element of their lives, according to a recent poll from Pew Research/Time. The poll also revealed that nearly half of respondents' family lives turned out differently than they expected. Interesting!