Jennifer Adams, interior design pro and part of the Better Homes and Gardens® Real Estate ASK A PRO team, is a source of inspiration for all things home. The celebrity designer, entrepreneur, and two-time author's shares her thoughts on how to achieve your personal and career goals, in our series of blog pieces inspired by Jennifer's recent book, How High Can You Soar? Continue reading to learn about how Jennifer feels about the power of intention: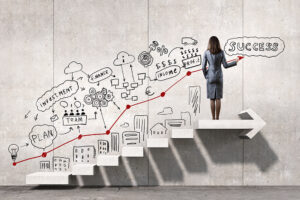 Intention is the motivating factor and the underlying reason behind what you do. When you set an intention — whether for your well-being, career or relationships — it should be authentic and inspiring to you. Intentions are different than a goal, although they work together. Goals are specific, external achievements you want to accomplish in the future. Intentions are independent of the destination and support the feelings you want to experience in life. When you back your goal with an intention, it empowers you and ensures that the journey toward your goal will align with the emotional quality you desire.
When I commit to a big dream or goal in life, I always set an intention by writing it down. By doing so, you are taking the first step toward achieving that dream. It's a courageous action that strengthens conviction and commitment by taking what was once in your head and putting it on the page. Once you've written your intention, build your stepping stones. Stepping stones are small, manageable steps that map out a path of transformation. It's effective to break down your steps as specifically and clearly as you can. Give each step a due date to be accountable. The power of intentions and stepping stones will keep you motivated and focused on your big dream, which is the surest way toward living the fulfilling life you want!
You can learn more about the power of intentions and stepping stones from my book, "How High Can You Soar." Available now, click here to order your copy today.
By Jennifer Adams
Want more of Jennifer Adams and How High Can You Soar? Check out The Power of Vision Boards now.