Realogy, parent company to Better Homes and Gardens Real Estate hosted the first Realogy FWD Innovation Summit this week where a select group of companies presented their emerging technology ideas and products to an invitation-only audience of Realogy executives and franchisees, including BHGRE President and CEO Sherry Chris.
The event included 15 businesses hand selected from an estimated 100 technology forward companies all competing for a cash prize of $25,000.
BHGRE President and CEO @sherrychris setting the stage for today's #realogyfwd summit! pic.twitter.com/DcEMRcHRJs

— AllThingsBHGRE (@AllThingsBHGRE) June 18, 2013
Realogy Moves FWD
The opportunity was simple:
Each company had to present a product that would offer a solution to the needs of today's real estate companies, agents or consumers. Representatives of the 15 businesses were required to provide a captivating presentation in a short five minute demonstration that shared their vision and unique innovation.
While only one company would be crowned the Realogy FWD Innovation 2013 Champion and earn the Realogy FWD Innovation Prize of $25,000, everyone walked away with new connections, fresh ideas and an invaluable, forward-looking perspective.
Any way you looked at it, this was an incredible opportunity for each participant to validate the blood, sweat and tears that were no doubt put into each invention.
The impressive list of 15 finalists included:
As we all eagerly awaited the judge's decision, we reflected on the impact and potential each company could have within our industry. From the real-time data provided by BuyerMLS to the exciting social component found in Lumentas, it was evident that each company chosen within this select group was innovative, eager and excited to be a part of the change happening in and around the real estate industry.
While Floored, a New York City-based company that generates incredibly impressive interactive 3D models of interior spaces received the top prize, it was easy to see how this event would create lasting momentum for each of the participants.
The energy, enthusiasm and idea-sharing made for an electric atmosphere and an incredible first-of-its-kind technology event!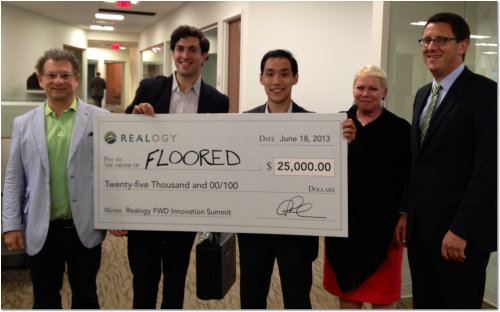 Catch up on all of the days key takeaways in our roundup of tweets on Storify!