---
Success for real estate professionals in the social environment requires a balance between their social goals and the time and other resources available for reaching them. However, starting with a realistic plan can set a course for striking this balance.
Social Media for Every Type of User
When performed and managed correctly, social media is effective and accessible to all real estate professionals, though the perception that its full potential can be realized quickly is simply misleading.
To assist real estate agents in understanding the social media results they can expect from a particular level of investment, Lumentus Social analyzed more than 100 real estate professionals' social media pages of independent and franchised brokerages in various markets. Following our analysis, we identified four types of users, each based on patterns of activity, engagement, and response level.
Power User – Active every day, both posting and engaging with others.
Regular User – Posting regularly, though with limited proactive engagement with others.
Sometimes User – Posting irregularly and only engaging with those who directly contact them.
New to Social – Have built pages, though they are mostly static users and can actively view others' social activity while seldomly engaging with them.\
In the majority of markets reviewed in Lumentus Social's analysis of over 100 profiles, no more than one user could be classified as a Power User. Approximately 70 percent were classified as Regular Users and Sometimes Users, and 25 percent as New to Social. The review demonstrates that while people report their use of social media, a strong majority are not using it to its full potential.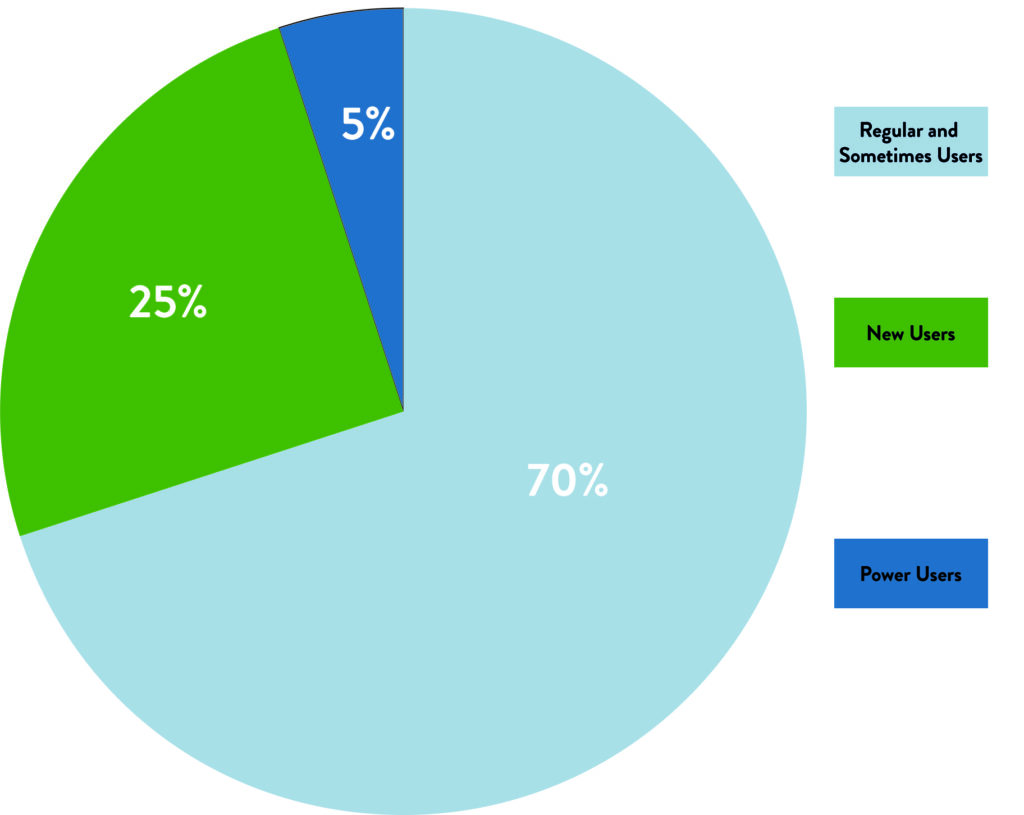 Time and Resources
Time and resources are valuable commodities for real estate professionals and are an important starting point for a social media plan. The right combination is the key to achieving the greatest possible returns.
Topline Tips
Dedicate time each week to social media marketing. The specific time commitment will depend on your user level and goals.
Use time-saving social media management tools, such as Hootsuite or Lumentus Social, to assist in identifying content and scheduling posts for all platforms in one application.
Develop a monthly social media budget to ensure progress within financial parameters. See the Advertising table in the full whitepaper for budget details.
User Type
Time Commitment
Estimated Financial Commitment*
Considerations for Growth
Power User
1+ hours per day
$500+ per month
Take a cross-platform approach and engage a social media specialist to supplement the personal time you spend on social media. Also, set specific goals and objectives for website traffic and audience reach and engagement.
Regular User
4 to 5 hours per week
$100+ per month
Broaden your social media efforts to include multiple platforms and ads to grow your personal network. Also, begin tapping into the opportunities offered by Facebook Insights and other analytics tools to better understand your audience(s) and content performance.
Sometimes User
1 to 3 hours per week
$50 per month
Invest in social media scheduling software like Hootsuite or Lumentus Social. These technologies make it much more efficient to stay consistent with your social media efforts because they provide content to share as well as scheduling capabilities so you can set all of your social media posts in advance.
At this point you should also start "boosting" posts on Facebook (or your primary channel) to increase your name and content exposure. Boosting is the process of paying as little as $5 to increase the number of people who see your social content.
New User
15 minutes per week
$0
Increase the number of friends/connections/followers among your family, friends and colleagues, and be proactive in liking and sharing content they post. Focus on posting consistently before advancing to a higher level of activity, i.e. posting at least three times per week.

*These estimated costs are based on current social media advertising rates and results and do not include daily costs associated with your hiring or engagement of in-house marketing personnel or third parties.
To find the full guidelines for taking advantage of the social media resources at your fingertips, download The Real Estate Agent's Guide to Social Media whitepaper here.*These estimated costs are based on current social media advertising rates and results and do not include daily costs associated with your hiring or engagement of in-house marketing personnel or third parties.