The Y in Generation Y could stand for young renovators. 40 percent report that they tackle some projects solo, while 23 percent tackle many projects on their own.  Home, to this age group, is an experience in expression via customization. The pull toward homeownership is so strong, 85 percent say owning a home is part of the American dream. To them, home is a social environment as well as a workspace, where these homeowners build social equity, not debt. Millennials have modest aspirations and take a realistic approach that is conscious of costs and resale values. It is worth looking at first-time homeowners ages 22-39 who have owned their homes for five years or less to understand their need for adventure, discovery and creativity, and to spark deeper communication.
Home ownership is important to every generation. It is a way to mark adulthood and offers a private space to reach new stages of life. For this age group, home is also a canvas for their personality. Eighty-eight percent of first-time millennial homeowners are eager to learn skills that help them upgrade their homes. They believe the best way to create a future is to craft it with their very own hands. They value interactivity and services on demand. Three in four have expressed a desire to do a DIY project sometime within the next 12 months.
Interior projects
Many from this generation work from home as remote employees or freelancers. They may be spending more time at home than previous generations, and as a result, their homes must be multifunctional to fit their needs. However, millennials will not give up personal style for any reason. This generation has grown up with global influences and a need to be their own person. While previous generations of new homeowners would take hand-me-downs and sacrifice style for value, this generation looks for affordable style options.
Painting is the cheapest and most convenient DIY project, with 39 percent of millennials thinking about it. Installing light fixtures (27 percent) and faucets (24 percent) are quick projects as well.  Many want to lay tile to transform an interior, with mosaics being a trendy choice. Building shelves has also proven popular, with 25 percent of millennials expressing a desire to do so in the future. The key with this age group is staying abreast of trends to build décor and staging credibility. The Chicago Tribune reports midcentury, Scandinavian and industrial styles are making an aesthetic comeback. Millennials are putting natural materials, like old barn wood, metals and exposed brick back on the menu. Learn about complementary projects to build trust like creating a gallery wall on exposed brick or new sanding techniques.
Exterior projects
Exterior projects go beyond curb appeal. Many want to see their outdoor spaces as a retreat. As such, they want to create multifunctional spaces that reflect their values. Twenty-six percent of millennials want to plant vegetable gardens, with a focus on affordable organics and reducing their carbon footprint. It may not be the picket fence of yesteryear, but fences are increasing in popularity for millennials, with 23 percent looking toward installing a fence. The next most popular exterior project is staining or painting exterior doors at 21 percent. Landscaping (20 percent) is also popular and many watch tutorials to see which plants will work best with their lifestyle, which may be why low-maintenance succulents are quite popular presently.
Twenty-one percent would like to design an outdoor living area. Functionality, style and outdoor space go together for millennials. Seven in 10 first-time millennial homeowners think of outdoor spaces, decks, patios, or porches as another room of the house to decorate and use for family meals. They want their backyard to reflect the style of their home as well as represent the more relaxed side of their personality.
Understanding the generation revolutionizing the home industry is vital to staying relevant and having the ability to meet their needs and expectations.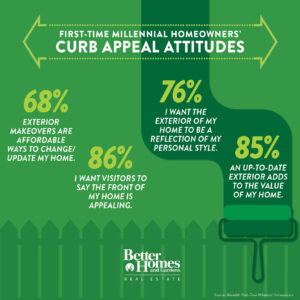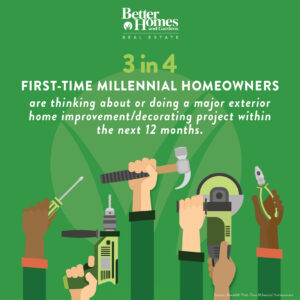 *Source: Meredith First-Time Millennial Homeowners