I think it's well past time for the layout of the "traditional" real estate office to change.  As a customer, I see woefully little that is designed around my needs.  As someone with a vested interest in the success of this industry, I see wasted costs galore that make my stomach churn.  As I've written before, I believe we can do much more with much less.  I can't imagine a better time to move forward with revolutionary designs.
With that in mind, I recently challenged myself to draw up some floor plans.  A few ideas were floating in my head but I needed to get some real measurements to make them useful.  So I casually paced out floors of all kinds of different business I thought we could borrow designs from.  I sized up office furniture with my trusty tape measure.  I played with a snazzy interior design program.  I mumbled to myself a lot.  And, in the end, I opted for old-fashioned pencil and grid paper so I could free-form away when the mood struck.
A major goal of mine was to aim for 1,500 square feet, which I quickly found was easier said than done.  Three designs took shape.  I humbly submit for your review and critique:
(a)  The Coffee Shop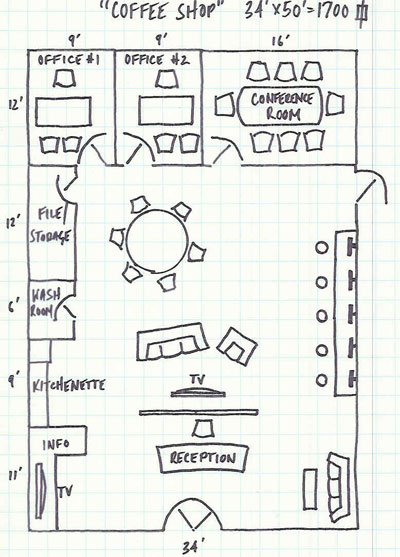 After walking in, the customer can either gather information on the left, take a seat at the couch on the right (across from a TV scrolling through listings, market information, etc.) or retreat behind the receptionist to the main area.  There, agents and customers work and browse comfortably either on couches, at a table, or on the five barstools with individual monitors (though this office, along with the others, is wireless).   The back wall is lined with a 16′ x 12′ conference/closing room and two 9′ x 12′ offices (used either as private meeting rooms or for the staff, as needed).
(b)  The Showroom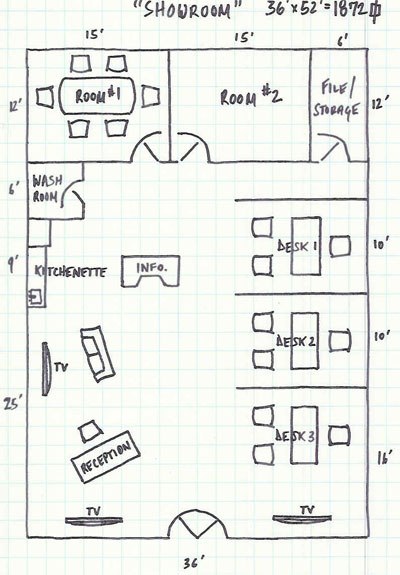 The two front windows each have large-screen TV's, luring customers to investigate within.  The design is open, with three sales desks lining the right wall, each separated by 6′ walls to allow for private conversation.  A customer who walks towards the back to the information booth is drawn in by either the screen on the left or just by the activity all around.  I picture glass walls for the two back closing/meeting rooms to create space, show action.  I can see this working especially well for brokers specializing in condos, apartments, or developments (e.g., replace the info booth with miniature models of the units).
(c)  The Lounge
The smallest design is perhaps best suited for urban settings.  It's funky and relaxed.  There are no offices, no desks even.  A 12′ x 16′ room is parked proudly at the center.  If it's at ground level I picture it as either glass-walled or with oversized windows all around.  If it's in a high-ceiling, loft-type setting, I can see it raised up a couple steps (eliminating the need for walls).  Maybe it's a meeting room like the others.  Maybe it's a high-tech media room.  Heck, maybe it's a playroom for young and old alike.
______________________
These are just a few to consider.  The basic idea behind all three is to eliminate the clutter that is too prevalent in today's offices.  Use the available space instead to entice people to gather and talk about real estate with friends and agents.  Surround them with sights and sounds that will tap into the excitement of finding that perfect place.  See what happens.
There are many brokers out there who have already broken the mold.  If you're one of them, please share your story and, if you're willing, your floorplan.  Even if you're not and you have a design or sketch you'd like to share please email me and I'll post it here.
____________________________________________
Update: Marc Diaz was kind enough to share with all of us the layout design of his office.  Thank you, Marc!  The actual images can be viewed here.  Please see Marc's comments below.