Having participated on a number of advisory boards, I learned firsthand the power of putting together a group of talented people who can help build or grow a business. The opportunity to hand-pick an advisory board to help us get this brand up and running was exciting, given the fact that real estate brands typically don't have individuals who are not directly involved with listing and selling real estate give advice. Nicolai, Wendy, and I put our heads together and collectively came up with a short list of people whom we know and respect and reached out to them. Each has different strengths and strong ideas on how our brand should look and feel. They all agreed to join, and so, our Advisory Board was born …

| | |
| --- | --- |
| | Allan Dalton, former president and CEO of REALTOR.com was a natural choice. He was a broker with the original Better Homes and Gardens as owner of Murphy Realty, and has some pretty strong opinions on what a real estate brand of the future should look like. |
| | Chuck DelGrande, a managing director at Presidio Merchant Partners, is an expert in interactive media as well as a mergers and acquisitions specialist. I like to refer to him as "The Voice of Reason." |
| <img src="https://bhgrecareer.com/bebetterblog/wp-content/uploads/sites/11/2008/05/ferrazzi-thumbnail.jpg" alt="Keith Ferrazzi Headshot" align="left" border="0" height="95" hspace="10" vspace="10" width="74" | Keith Ferrazzi is the founder and CEO of Ferrazzi Greenlight, a strategic consulting and training company. He wrote the bestselling book, NEVER EAT ALONE And Other Secrets to Success, One Relationship at a Time. |
| | Anne Randolph is the publisher of Lore Magazine and has an extensive background in marketing and product development and launching new businesses. |
| | Wendy Riches is the executive vice president of Meredith Publishing Group and heads up its Integrated Marketing and Database Marketing Services. Meredith is the parent company of the Better Homes and Gardens brand, our licensing partner. |
| | Michael Russer is the CEO and founder of RUSSER Communications. He is known as "Mr. Internet," is the author of four books, and is a strategic consultant to organizations such as NAR and ARELLO. |
Tomorrow morning Nicolai, Wendy, and I are headed to Denver for the REAL Trends Gathering of Eagles event and will hold our very first Advisory Board meeting while there. We have hired Michael Staver, CEO of The Staver Group, to coach us and facilitate the meeting.
Following our launch, we will expand the group with a couple of our founding broker-owners to balance the group out and participate from practitioners' point of view.
Stay tuned, as we are now in the final 60 days to launch … let the fun (and hard work) continue!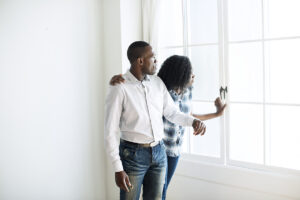 Education
Homeownership has historically been influenced by racial, ethnic and other prejudices. Even in the areas where
Read More »

Get the latest news in your inbox!
Sign up to get the latest from BHGRE.