Goal setting without a strategic plan of action is similar to shooting darts in the dark. You might occasionally hit the dartboard, but you will not see consistent results. Building measurable goals and place them in to an actionable plan is key to the successful execution of a business plan.
If you have not taken the time to create your business plan, begin now before you move forward with tools to track your goals. Lay the foundation first and then tackle implementation.
5 Online Goal Tracking Tools
1.  GoalsOnTrack
This goal tracking software does so much more than just assist in tracking your goals.  It will help you prioritize, visualize and stay focused on what matters most.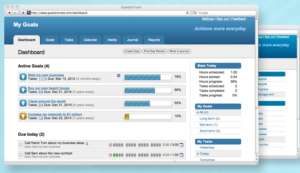 2.  BackpackIT 
So much more then a goal setting and tracking system, BackpackIT allows you to create to-do lists which you can then share with friends, team members or accountability coaches.
3.  43things  
As 43Things states…"Changing your life is hard.  Doing it by yourself is harder." Whether your goals are small or significant, 43 Things will help you track your goals as well as motivate you through fellow member recommendations.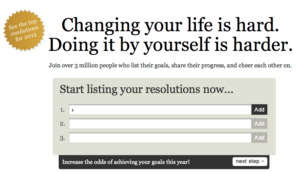 4.  Joe's Goals
Joe's Goals is an easy to use and extremely efficient online tool that is great for tracking your everyday goals.  For instance, how many buyers or expired listings have you called on this week?  For those driven by reward, you will also love their points based system.  You add and subtract points for the tasks you check off your list and subtract for the ones you fail to do.  Great motivation to get those tasks done!
5.  LifeTango
If you need help determining goals then LifeTango is for you!  The easy to use wizard will stimulate your brain with questions like: "What's one work project/venture you'd like to complete?" After answering a series of questions, LifeTango will recommend goals based on your answers. Then you simply choose from those and track your progress.  You can also share with friends to keep you focused!
So what are you waiting for?  A business plan without a strategy is nothing more than an exercise in goal setting.  Create your business plan and then track and measure your goals for success in 2012!