Are you leaving money on the table? Agents and brokers around the world spend days and thousands of dollars per year on their websites and don't reap the full benefits because they overlook these three real estate website tips:
1. Quick search on your homepage – When you visit both Google and Yahoo! what is the main difference between the two? Google's homepage features their search box and that's it. Google figured out early on that the key to success (and the reason why they're the #1 search engine in the U.S.) was to simplify their homepage because someone going to Google.com is going there to search for information — not to be inundated with irrelevant information.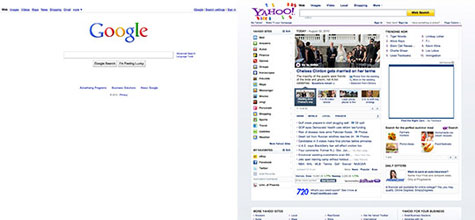 Your real estate website should be the same way. Local information and your business bio are great but a real estate website's main purpose is to generate leads for you, which it'll do primarily through your real estate search. That should be front and center with few, if any, distractions around it.
2. Minimize load time – Remember the last time you were at the supermarket and while hunting for an open lane a cashier opens one up and calls you over? It feels like you hit the lottery and that's how you want your website visitors to feel. If it takes 30+ seconds for your website to load, most consumers will hit the back button and you'll miss out on the chance to serve as their agent.
Here are three ways you can minimize your website's load time:
Have your webmaster optimize all of the images on your website
Minimize the fancy stuff – Countdown timers, Google Analytics and the like all take time to load. Focus on what's important (Google Analytics > countdown timers) and remove the lesser stuff.
Run a free website optimization test at WebsiteOptimization.com and look out for other areas of your website that can be improved. The test will provide you with load times and show you exactly what takes the longest to load on your website.
3. Use a search engine friendly real estate search system (IDX) – Search engine friendly real estate search systems are starting to become more widely available through companies like Diverse Solutions and Displet. By having a search system that allows search engines like Google to index your search results you open up the possibility of sending more qualified buyers from search engines to your website.
Are you using any of these real estate website tips on your website? Let us know in the comments below!