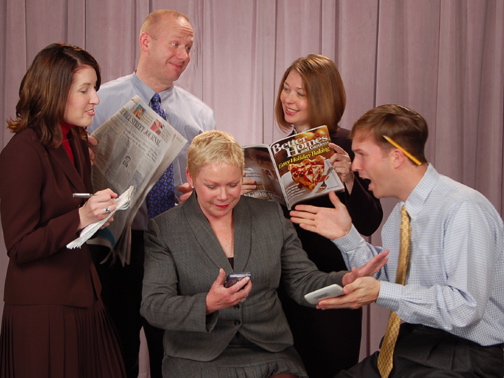 You might think I am going to write about great technology applications as they relate to "the real estate brand of the future," and I will… but not in this post. Technology will continue to empower both the consumer and agent by allowing for more transparency and greater efficiencies, and the tools will continue to become more sophisticated in the months and years to come. All of this excites me, but without the right people (as in team) in place, it all falls flat.
One of the most exciting things for me about building BH&G Real Estate from scratch is having the opportunity to put a best-in-industry team in place – believe me, there is nothing more powerful. And if early feedback is any indication, we are off to an outstanding start! One of the key prerequisites to be considered for the team is a keen passion and desire to build a service offering from scratch that embodies the needs of broker owners, agents and consumers, that takes the best of what we have today and marries it with what the future should look like. It is one of those funny things… you either get it or you don't.
Wendy Forsythe gets it… with the opportunity to become employee #2, this talented executive packed up and moved from Canada to develop and launch our broker and agent tools, career development programs and a nation wide recruiting platform. All of this designed to bring the highest production and productivity from agents and brokers alike. Wendy and I used to work together in our previous lives, as I like to say, and I guess our time together had just begun… we simply picked up where we left off several years ago.
Nicolai Kolding gets it too… after heading up Realogy's merger and acquisition team for several years, Nicolai decided to put his strong financial abilities to use in an operational environment. In fact I received a late night "we need to talk" ping from Nic while he was travelling on Realogy business in China – he was interested in joining the BHG team and is now putting a plan in place to service brokers using strong financial benchmarking. I couldn't think of a better choice as COO of this new exciting brand.
Kevin Doell gets it big time. He applied for his position as Senior Director of PR and Communications by presenting a serious pitch on a concept he refers to as "Project Cool" otherwise known as our green initiative, which quickly becoming a major force behind what BH&G stands for. As it turns out, he is a pretty serious video editor, a very good writer, and passionate about PR. A unique skill-set to say the least!
Meet these talented individuals and get to know them as they comment on this blog on issues and topics they are passionate about. You will begin to feel the power of our team…
It is a lot of hard work launching a new real estate brand, but with the right people in place it is more fun than you can imagine! Stay tuned…