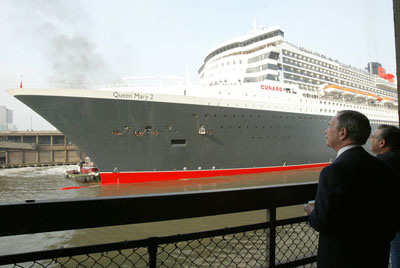 The Queen Mary 2 (QM2) happens to be one of the world's largest and most elegant cruise ships. It seats 3,056 passengers when at full capacity, averaging one crew member for every two guests. To put it into perspective, the length of the ship is just about the height of the Empire State Building – approximately 1,200 feet long. The guests pay a lot of money for a cruise experience like no other, and the Commodore (Captain) and his crew ensure that everyone's expectations are exceeded. One of the reasons I have such a great interest in this ship is because my brother Patrick is the director of music for the QM2. He lives on the ship about six months out of every year, and oversees a staff of more than 30 musicians who provide the entertainment for the guests on board. Since I don't get to see him very often and the ship is currently sailing out of Brooklyn NY, he invited me on board for lunch a few weeks ago before it disembarked for a 14-day cruise. What was supposed to be a nice lunch on the QM2 with Patrick and his girlfriend, Lisa Vroman (for you Broadway buffs, she played Christine in Phantom of the Opera), turned into a day of an epiphany for me.
My other interest in this ship and the Cunard Cruise line, in general, lies on how they have taken service to an entirely different level. Yes, there are other hospitality brands well known for their service, but what I like about Cunard is that service encompasses not just the guests, but also the employees.
Interestingly, it is more challenging getting on a cruise ship for a couple of hours as a guest of a crew member than it is to board as a passenger. I had to submit my date of birth and driver's license number in advance. Before I gained permission to board, I had to surrender my passport, sign a document, place my handbag through an airport screening machine, and have my temporary name badge scanned. This is good news for passengers. Security is tight.
However, before I boarded, I noticed something unique. Despite the fact that 3,000 people were trying to board the ship at the same time, everyone was so helpful and polite. Baggage handlers asked if I required assistance with anything, security guards inquired if I needed directions, and a ship employee even walked me to the crew's entrance of the ship so I wouldn't get lost. Once on board, I noticed that the crew not only treated their passengers with the highest level of respect, but also their fellow crew members. I mentioned this to Patrick, and he said, "That is our White Star Service. It is known as legendary, elegant, and memorable."
Each employee carries a laminated White Star Service credo with him or her, and when I looked at it, well, it all started to make sense … Here it is: 1. We smile; we are always in the spotlight. 2. We use correct body language. 3. We are immaculate in our appearance. 4. We support and assist colleagues. 5. We respect each other as individuals. 6. We are always positive with guests and colleagues. 7. We are knowledgeable about our ships and services. 8. We exceed guests' expectations. 9. We maintain formality in our service style. 10. We use proper telephone etiquette. 11. We always speak English in guest areas. 12. We never say no; we offer alternatives. These are all great, but #12 especially resonated with me. And so, I made a reservation to return to the QM2 at the end of April with my Executive team for a tour of the ship and a training session on White Star Service. As we prepare to launch the new Better Homes and Gardens Real Estate brand, creating our own credo and service level – both internally and to our clients – has moved up to the top of the list. I can't wait!