As NASA gears up for the Endeavor launch after a few delays, it is also celebrating 50 years of space flight — in May of 1961, Alan Shepard became the first American in space.  Even 50 years later, the excitement of a shuttle launch has not faded.
Being an astronaut may have more perks than just a very cool job title.  The NASA Credit Union will provide a mortgage without a down payment.  There are a few prerequisites, though — you must be a past or current employee of the organization, and it only applies in Maryland, Virginia and Washington (DC?).
Who was buying homes in 2010? Twenty percent of homes were bought by single women, 12 percent by single men, eight percent by unmarried couples and, not surprisingly, the majority 58 percent by married couples.  For the eight percent of unmarried couple home buyers, there are many things they need to consider before taking the plunge, like the title and whether the mortgage will be in one or both parties' names.
Classic rivalries like Yankees v Red Sox, Batman v Joker, and Tom v Jerry may never be settled, but in the real estate world, the battle between buying and renting may be figured out.  At least in 80 percent of cities, anyway, where, according to an index from Trulia that examines home prices and rents, it is cheaper to buy a home than rent in nearly four out of every five cities.  Now if we could only create an index for the other rivalries….
What do Fresno, California; Anchorage, Alaska; and Iowa City, Iowa have in common?  It is surely not the weather or way of life.  All three cities are actually on the list of the top ten places homes are selling fastest.  It is certainly a welcome sign for home sellers there!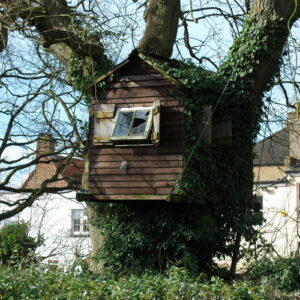 And finally, when I hear "tree house," planks of wood scraps spanning the intersection of strong oak branches come to mind.  Boy, have times changed.  A luxury tree house revolution is happening with the adult in mind, and the new canopy dwellings are putting their predecessors to shame.  Now, unique shapes with stained glass, multiple stories and wood burners are just some of the features of the 21st Century tree house.
Happy Mother's Day!
(Photo Credit Edwin Verin / Shutterstock.com)