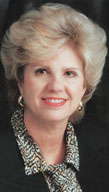 I met Brenda Casserly for the first time at a Gathering of Eagles conference in Asheville North Carolina.  That would have been over 10 years ago, and it was the first time I had attended. I sought her out, wanting to meet a woman who had risen up the ranks in an industry dominated by males at the top.  Well, she couldn't have been more gracious, spending time with me and answering my questions.  I followed her career advancements by reading announcements and press releases.  When she was appointed President and CEO of ERA Real Estate, I was pleased for her, and proud that I knew her personally.
Several years later, when I arrived at Realogy, it was Brenda who was one of the first to congratulate me on my new position.  We shared a genuine like and respect for one another, she would often ask If  I was doing ok, when it was she who was quietly and courageously battling the cancer that would eventually win.
When we launched Better Homes and Gardens Real Estate, Brenda was right there offering congratulations and help. She encouraged me to attend her conference to gain knowledge and ideas, her graciousness had no boundaries.
Brenda always had a certain presence in every meeting. Her signature gold charm bracelet, her impeccable St. John knit suits. Her brilliant smile. She was private about her illness, choosing not  to share  many details. One day we went out together for sushi at lunch and she shared that she was feeling much better. I was excited for her.
In life ,there is always much we take for granted.  We take for granted we will spend time with people again and again, and that we will be able to thank them for making a difference in so many ways.  That is often not the case.
The last time I saw Brenda was at her International Business Conference on March 6th.  As I sat in the front row with other Realogy executives, I noticed how beautiful Brenda looked as she addressed the crowd, her clearly articulated message warranting the standing ovation she received. I sent her a message from my Blackberry, congratulating her on an outstanding presentation. That was the last time I saw her.
Brenda lost her battle with cancer on Wednesday morning.  It came as a shock to us all. This morning, as the flags outside  Realogy  headquarters flew at half mast we paid tribute to Brenda Casserly, a leader and a friend, respected by all.
(To View & Leave Comments in Brenda's Memorial Guestbook – TeamERA.com/Memorial)