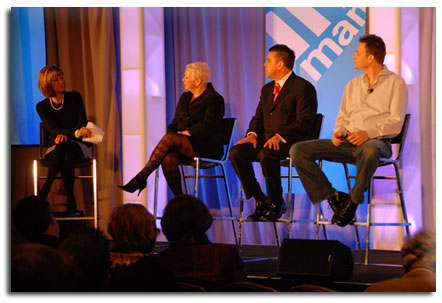 I spent most of the past week at Inman Real Estate Connect in New York , which I found to be an excellent investment of time. The mood by the end of the week was actually quite buoyant, in a pragmatic sort of way.  Everyone shared a no-holds-barred reality check about the state of the market at the beginning of the conference. By the end of the conference, however, we left with strategies, ideas and exposure to innovation that would help those who take the business seriously be well positioned to participate in a challenging sector. There's going to be a cleansing of mediocrity and the creation of leaner, more effective, more efficient operators at all levels of the supply chain, and that includes all marketing practitioners – from chief marketing officers to individual agents showcasing properties. This is a good very good thing.
So here's what I took away as the top 5 Marketing Musts for 2009, if you want to make sure you're not wasting time and money.
Don't guess: in an up market, a lot of sins are hidden.  But now, near enough won't do, so don't guess. Research doesn't lie, so whether it's analyzing a new market opportunity, creating a new brand, or just trying to understand the competition, test your assumptions before making decisions.  Things don't look like they used to either, so something that may have been a trend 12 months ago, may have completely reversed by now.  It's like the old carpenters saying – "measure twice, cut once".

Hire Professionals when you need to: if you weren't qualified, you wouldn't operate on someone would you? Well perhaps not with quite as dire outcomes, but if it's important, why not use a professional , whether it be a web developer, writer, photographer, designer or brand expert? There is so much access now to professional services resources both locally and off shore-and at reasonable costs- that there really is no excuse for turning out home-grown looking marketing material that is not effective, and really just eats up precious budgets.
Focus: executing a few marketing programs really well will have better results than spreading your marketing plan too thin and only half doing a lot of things.  To be able to prioritize, however, means you really have to be in touch with your strategy, your objectives and what tactics make sense for you.  So don't feel pressure to 'react' and do something just because everyone else is doing it. Pick your key programs, and make them great.
Measure it: How on earth do you know what works, if you don't measure it? Admittedly measuring the effectiveness of advertising is one of the never ending challenges facing any marketing practitioner.  But there are a multitude of quantitative and qualitative measures you can put in place, so you have indicators of what is actually working effectively in your marketing mix, verses what you are doing just because you have always done it.  Then you'll know for sure if that banner ad was a good investment, or a waste; if that print advertisement money really should have been spent on SEM, or if direct mailing 5000 targets once would have been better as a campaign to 500 targets, 10 times.
Don't stop: and just when you think you might be able to do without brand building, communicating or positioning yourself and save the money, remember that as competitors fall by the wayside, is the perfect time to keep investing and increase your voice, so you emerge stronger and further ahead, when the market starts to grow. It's a classic mistake to 'go dark' just when things get tough, and then discover how much further behind you are when the market recovers.  So keep building connections with future customers now, even if they don't want to talk to you until 2010.