Ah, the empty nest — that tranquil, far-off place harried parents dream about. An idyllic state where the kids are grown and on their own, couples reacquaint, and long-deferred leisure fills hours once claimed by domestic obligation.
Whether or not reality fulfills those dreamy expectations, the empty nest is a new reality for millions of Baby Boomers each year. And more than a state of being, it's also a physical place of sticks and bricks — and that's where we come in.
As Better Homes and Gardens® Real Estate reported following a 2014 national survey, 57 percent of Boomers say they plan to move from their current home. Their reasons, as diverse as this generation is large, include downsizing; cutting back on maintenance; being near recreation, family, or jobs; and finally buying their dream home. Many in this middle-age-and-older cohort — the youngest Boomers are at least 50 and the oldest turn 69 this year — will have ample means to follow their hearts. In fact, many do, as a report from the Demand Institute found that those who plan to move and downsize are actually upsizers, preferring smaller homes but with luxury features or high-end amenities, which reflects the considerable size of their savings. Collectively, they stand to receive the greatest inheritance in history, with estimates valuing the haul at $10 trillion to $15 trillion.
(For those who don't easily relate to numbers that size — and that's probably most of us — $15 trillion exceeds the combined gross domestic product of Japan, France, Germany, and the United Kingdom.)
You know this generation, even if you're not a member. It's the most studied and most catered-to demographic in world history, not only because it's big, but because it does just about everything in a big way. In the graphic below, we've assembled some insights into how its members are aging.
Meet the empty-nester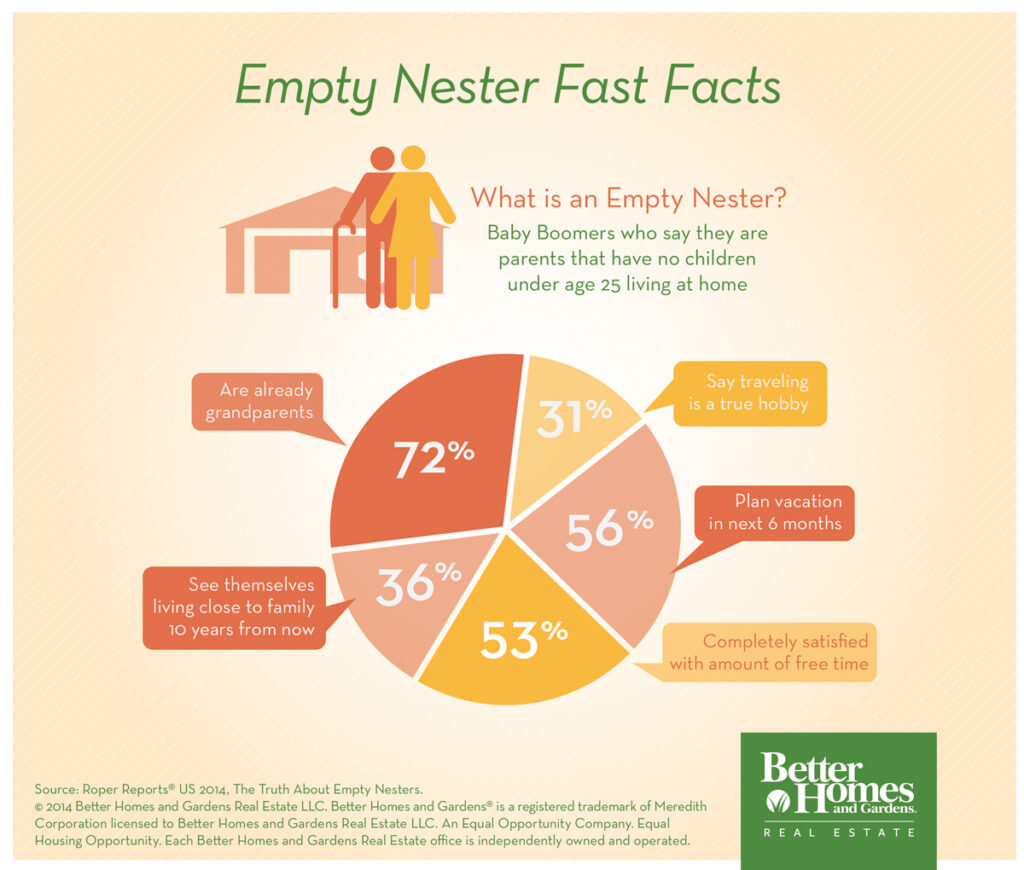 Seventy-two percent of empty-nesters already have grandchildren (they are getting older, aren't they?). They value their free time, and 53 percent say they have plenty of it. That number will surely rise as more retire — as they're doing it at a rate of about 10,000 a day.
Getting away is important to this group, 56 percent saying they plan to take a vacation within six months. And while they may call it vacation, many of these Boomers take their time away pretty seriously — nearly a third (31 percent) identifying travel as a true hobby.
Thirty-six percent of these folks see themselves living near family ten years from now. If the figure seems low, it probably reflects an expectation that their children will follow a trend established firmly during the Baby Boomer's prime working years — following their career dreams across the miles and time zones.
Homeownership has always been an important part of their lives. Raised amid the postwar housing explosion that forever changed the face of America, they take pride in their homes and communities. Home remodeling, improvements, and landscaping rank high among their priorities, says geographic information systems company Esri. Although they are not quite ready to move into assisted-living facilities just yet, having a sense of community is still important to this age group. Whether it is lending neighbors a helping hand or donating to a good cause, baby boomers are generous with their time and money, giving more than $47 billion to charities and relief organizations each year.
As they plan their retirement moves, they may look into downsizing by gifting treasured possessions to family members or donating unused items to local groups that make a difference in their community. However, this group's next move is not looking to retreat to the traditional senior havens in Florida and Arizona. Forty-three percent told us they want to live near potential employers as they pursue "encore careers" that capitalize on their skills and experiences and reflect today's longer life spans. That's not far behind those who want to live near parkland (48 percent) or near an ocean or other body of water (51 percent).
Raised on big aspirations and many flush with the cash to make them reality, this large and active generation is embracing the future in ways that spell opportunity for real estate professionals.