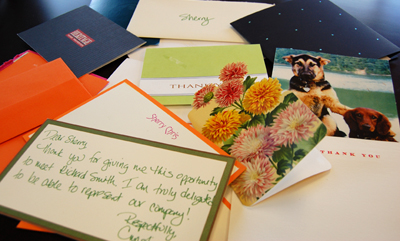 When a blog post about sending handwritten notes gets 26 comments, it tells me that the blogger has hit a nerve. Rudy's post last week did just that. When I read it, an image came to mind of the letter being passed around the open office space at Trulia with people marveling at what a stamp actually looks like, and commenting on the penmanship of the writer. One person posted a comment on the blog saying he hadn't sent a letter in over 10 years! Another commented on how difficult it is to get people's actual mailing addresses. It got me thinking about the power of personalization in a transparent yet impersonal world.
Yes, I am on facebook, LinkedIn, write a blog, comment on other people's blogs, have an email signature that links back to the blog, follow people on Twitter, have Twitter followers myself, have some videos on YouTube and practice social media as much as I have time for. And I enjoy it! But when I think about it, there is nothing quite like receiving a personalized, handwritten note. When someone takes the time to write something just about you… When you think about it, here is a unique opportunity to make a difference in someone's day. I keep a lot of the notes I receive. They are nice to look at, to read again, and to remember the person who sent it. I send handwritten notes to people as well, but not as often as I should.
Here are some tips:
* Invest in personalized stationary that reflects your personality (using recycled paper)
* Design the look to be bright and clever, so that the notes will be displayed by the recipient
* Write short, personal and meaningful notes
* Make sure the envelope is handwritten as well
* Set up your iGoogle page to track people's accomplishments – utilizing technology to enhance a traditional activity
* Set aside some time each week to write to people.
Now I have to practice what I preach. Glad I still have my traditional database complete with addresses. By the way, my address is 1 Campus Drive, Parsippany, NJ, 07054.
Happy writing!