Welcome to latest edition of the Real Estate Resource Roundup.  These are some of the industry articles that caught our eye this week.
Inman 100: Real estate's most influential leaders in 2014
Inman's 2014 100 report, an annual list of the Most Influential Real Estate Leaders recognizing those who embody leadership, ingenuity, strength, conviction, power persistence and progress was recently announced.  Sherry Chris, CEO of Better Homes and Gardens Real Estate, and Amy Chorew, Vice President of Platform Development, is included on the list.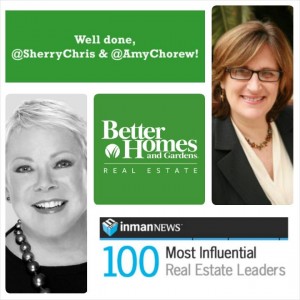 Builders Get Into Jumbos
Wealthy buyers have been getting a helping hand in their mortgage pitches from an unlikely source: luxury homebuilders.  Homebuilders are directing buyers to their financing arms and have been rolling out generous jumbo mortgages over the past year.  Builders are doing this in order to boost sales of the luxury market and to streamline the mortgage application process.
U.S. postpones 2014 hike in mortgage fees
Recently, the incoming chief of the FHFA, Mel Watt, said he intends to postpone the hike in mortgage fees, and perhaps even cancel them until more analysis is done.  Borrowers who were seeking loans back by Fannie Mae and Freddie Mac were set to pay higher upfront fees starting April 1.  Watt intends to evaluate the rationale for the fees and their impact.
As home prices and interest rates rise, more home sales are cash deals
RealtyTrac recently reported that the proportion of all-cash home sales has doubled since May, making up 42 percent of all deals done in November.  These numbers show that the rising home prices and rising mortgage rates have diminished the pool of buyers using loans to buy a home.