Change is inevitable. From the music we enjoy to where we spend our next vacation, innovative marketing and an insatiable consumer keep our culture and our products constantly on the move. They revolutionize how we live and how we run our business.
The real estate industry, shaped by market trends and molded by economic conditions, is in the midst of a cultural change. As technologies, marketing channels, operational costs, and a more informed consumer evolve, it's imperative that future real estate brokerages adapt to the shifting paradigm.
Better Homes and Gardens® Real Estate has engaged in this discussion, analyzing and documenting who the future real estate superstars will be and what differentiating factors define the next generation brokerage.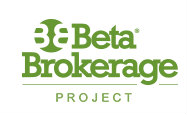 We refer to them as Beta Brokerages and they are popping up all across the country. They empower their agents and clients with new and innovative technology, and leverage both online and offline marketing in a significantly different way than traditional brokerages.
They are fearless works in progress, constantly changing to meet the demands of the current marketplace.
So what can you learn from their unique marketing practices? Take a look at two ways these innovators are setting the tone for a new breed of brokerage in 2013.
The Meier Group has a unique aesthetic for a real estate brokerage. They tailor to the urban luxury buyer, the loft seeker, the fashion elite, socialite, edgy Manhattanite.Their marketing is rich, fashionable and sexy.One look at their property listings and you will see the difference. They use photographers, models, stylists and makeup artists to create a specific story that takes place within the property. They're a far cry from the typical house commonly displayed in real estate advertising and a huge differentiating factor within their market.
Beta Brokerages are focused on removing the marketing burden from their agents by creating a streamlined and easy to-execute brand so that all marketing is consistent.
While many of the national real estate brands offer something similar, what's different about M Squared is its completely custom-built back-end marketing system and total focus on local neighborhoods.
Agents get a system that enables them to operate virtually and manage contacts, drip email campaigns, transactions and listing creation from anywhere. All of these marketing and technology solutions are offered by the brokerage as part of the agent split and no extra fees apply.
This also means their transactions are completely paperless, another significant focus of Beta Brokerages.
Although marketing is only one element in a Beta Brokerages success, one thing is for sure. Each of these innovative companies is making waves within their community by trying things that have never been attempted before.
Stay tuned as we focus in the coming weeks on these influential and dynamic Beta Brokerages surfacing across the country and within your town.