In trying to decide how to respond to the Merrill Lynch, Lehman Brothers, and AIG debacles, I've concluded that the best answer is to remind all of us to focus locally, where real estate really matters.  This isn't to say that the news isn't important but (a) this shall pass, and (b) I believe the men and women who are on the front lines each and every day are better served focusing on the forces that they have some control over.
The basic question that everyone is asking is, "Where is the market headed?"  Any broker or agent who tries to answer that one had better know his or her market inside and out.  And if you believe that real estate is cyclical, then understanding what phase of the cycle you're in is critical.
There are a number of different takes on this, but here is one version of the phases of a typical real estate cycle: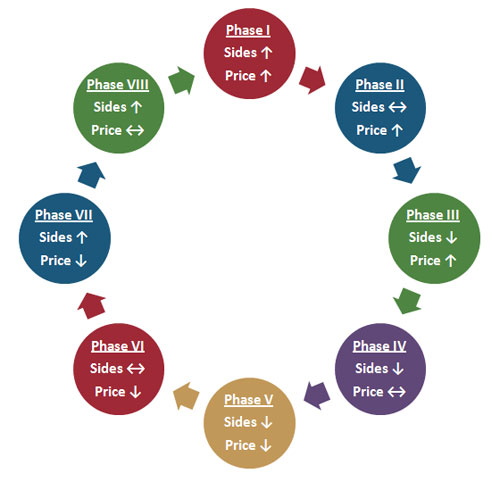 Note that sales price movement generally lags behind transaction sides.  The first indication of a softening market is typically when sides slow while price continues to climb.  Eventually, both price and sides are in decline (and, as we all know far too well, the transition from Phase III to V can be very rapid in some markets).  Typically, the recovery is driven by transaction sides, not price.  Although extraordinary factors can move a market "back" a phase, this flow is fairly typical.
Of course, the rate of change and the length of time in each phase is completely different from market to market and from cycle to cycle.  The key to everyone in the industry is knowing where you are and, then, what to do and say.
Every agent and broker should know at all times which phase his or her  local market is in.   It takes no time at all to pull the basics needed:  be sure you know your total market transactions and sales volume in monthly segments going back as far as you can.  Define your market by carving the data as needed (in other words, if you're serving only a certain price point or neighborhood, focus your study there).  Plot it out in a table or graph it so you can better see what's going on.  Then study the current state of sides, sales price, and inventory versus prior periods to spot the trends and determine which phase you're in.
Have a specific game plan for each phase as well as a communications plan to educate your customers.  Be ready with the statistics and share them.  Be the local market leader in distributing and deciphering these figures.  With knowledge will come confidence and you may in fact help, in at least a small way, to shape the direction of the market.
Some time in the not-too-distant future, I will post another crossword (or something similar).  If you're the competitive type and want a free hint or two (including what date and time it will post), be sure to sign up on Twitter and follow the brand and me!