Do you have sellers doing a major remodel on their luxury home before putting it on the market? Recent trends show that flooring is increasingly important to homeowners and certain options create more of a high-end look than others.
So, consider guiding your clients to focus on their floors and choose products that at least reflect and ideally boost the value of their luxury home.
Expect the following trending flooring options to wow buyers and help you close that luxury deal.
Flooring Materials
A home's flooring has a drastic and direct impact on its feel and function. It can create a cool, warm, vintage, modern, or glamourous vibe and provoke other emotions. Floors also set the tone for how people interact with a space.
When renovating a luxury listing's flooring, it's essential to understand how the materials you choose lend to feel and function. Agents should know the high-end buyers in their market and what types of interiors they desire. This will help you assist sellers in choosing flooring that fits a particular aesthetic while meeting the practical needs of each room. Are most luxury buyers in your area singles and couples without kids? Or, are they retired homeowners and families. As an agent, you must know your neighborhood's demographics to advise your client correctly.
Style is especially critical when choosing flooring for a luxury home. Here are some stylish and perfect options for sustaining a high-end lifestyle.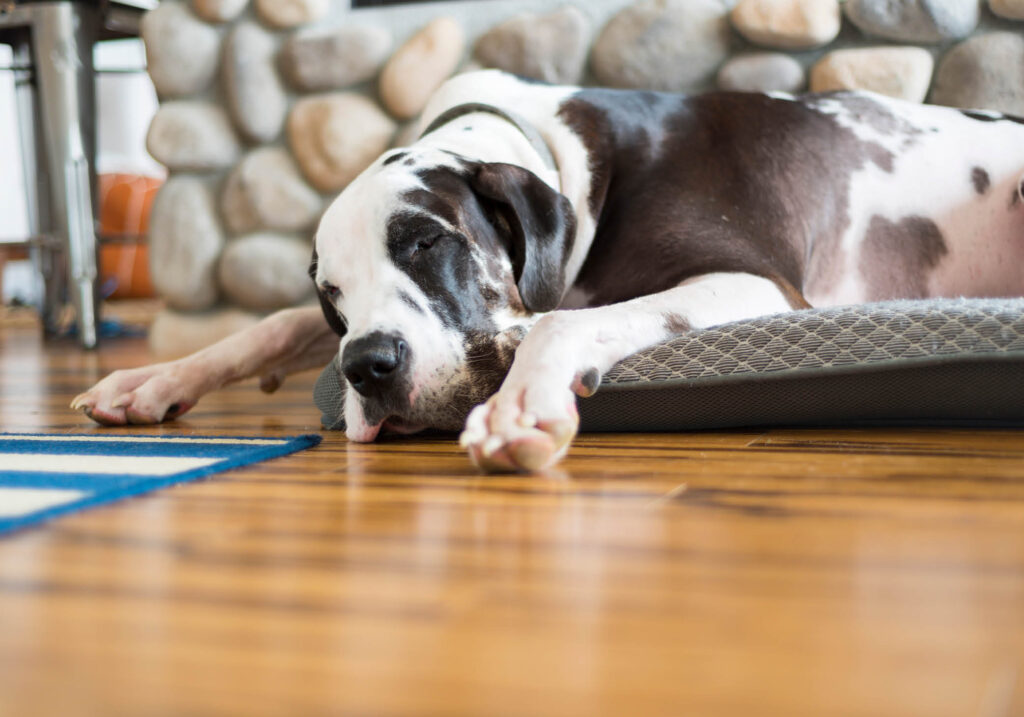 Bamboo Flooring
Bamboo flooring is an emerging trend that your sellers should explore. This product comes from the eco-friendly, stunning, and durable bamboo plant, and it is extremely popular in luxury homes. High-end homeowners love the sustainability and versatility of bamboo.
Bamboo flooring looks clean, crisp, and contemporary in kitchens, living rooms, dining rooms, and even bathrooms. It brings beauty to offices, yoga studios, and in-home theaters while providing the ruggedness needed for kids' bedrooms and playrooms. Bamboo floors are highly water-resistant and many options feature a stone polymer composite core that provides added stability.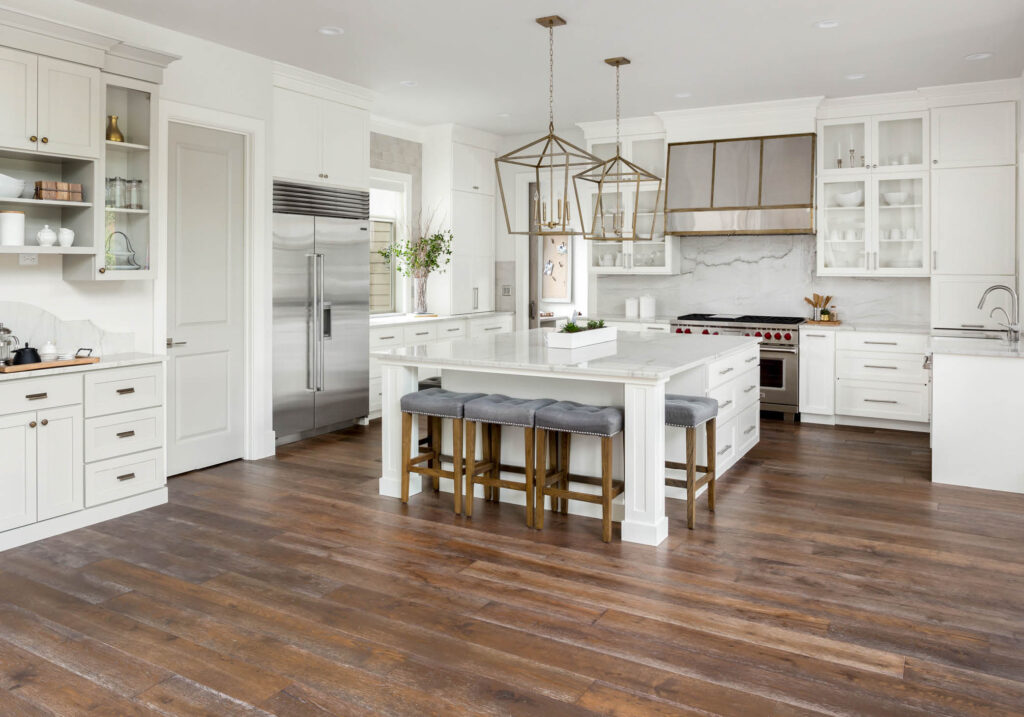 Hardwood Flooring
Hardwood has been a go-to flooring option in luxury homes for hundreds of years, for a good reason. It creates an elegant look with a natural quality material proven to stand the test of time.
Traditional hardwood flooring in teak, walnut, and oak remains in vogue in luxury homes. Geometric patterns, such as chevron and herringbone, are making a comeback in luxury properties and current trends show that painted hardwood floors can be just what's needed to glam up a high-end home.
Laminate Flooring
Laminate is a popular flooring choice for luxury homes because of the many colors, textures, and patterns available. High-end property owners who want to create a light and minimalistic look in a space often find just the flooring they're looking for in a laminate option.
Homeowners concerned with water and stain resistance often choose laminate over hardwood. Laminate beats bamboo among property owners who want more variation in their flooring.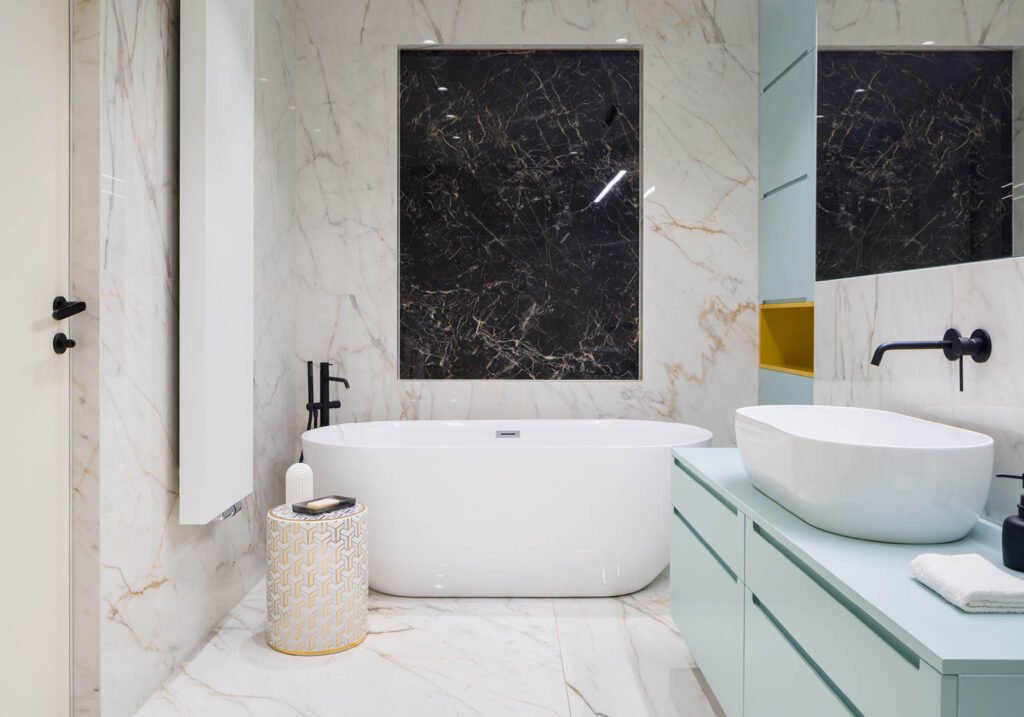 Marble
Installing marble in a luxury home offers many advantages, including increasing the perceived and actual value of a property. High-quality marble is one of the best materials for homeowners who want an attractive floor that also functions well.
You can install marble in all rooms of a home. Kitchens and bathrooms look sleek and stylish with marble. Living rooms, hallways, and indoor-outdoor patios take on a sophisticated and dramatic look with marble, which you can find in gorgeous colors like white, black, and shades of green and gold.
Trending Looks for Luxury Floors
Now that you know what materials homeowners love in luxury properties let's look at some trending looks.
Natural Hues
Many luxury homeowners enjoy timeless colors on the floor, whether the flooring material is bamboo, hardwood, laminate, or marble. They want a neutral hue to serve as a backdrop for their high-end furnishings and textiles.
Decorative Flooring
Decorative patterns and colors are trending in luxury homes. Bold designs and artistic takes on carpet, vinyl, and laminate flooring are popular with those looking to infuse some strong personality into a room.
Stained Floors
Dark and white stained floors have their place in many luxury homes today. Stained flooring is trending because it's less susceptible to wear and has a classic look.
Summary
Before putting it on the market, luxury homeowners looking to add value to their property should consider replacing flooring and installing products with trending materials, colors, and designs.
Timeless options like hardwood and marble remain desirable for the high-end homeowner. Modern products like bamboo and laminate have their place among luxury homeowners looking for a perfect marriage of style and durability.