Posted by Wendy Forsythe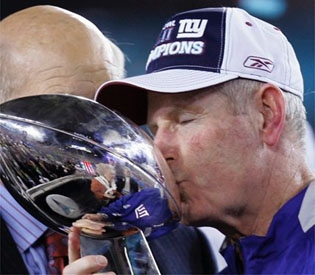 Okay, I admit it. Growing up in Canada, I never really understood the hoopla over the Super Bowl. Sure Canadians are football fans, but it's not hockey! Now having transplanted to New Jersey and living through the recent Giants win, I see a whole other side to Super Bowl Sunday.
Other than the food, parties, and entertainment–the part that fascinates me is the coaching. Football coaches have legendary abilities to lead groups of people to amazing outcomes.
How do they do it? Here are a couple of great reads that detail some of Vince Lombardi's and Don Shula's secrets to success.
But what can we learn from Tom Coughlin, winning New York Giants coach? Well if you are a football fan (or just jumping on the band wagon like me) you know that Couglin was nearly fired after last season, he virtually lost the support of his entire locker room, and then started this season with two straight losses. To say he had seen some rough times would be an understatement.
Some of you are probably feeling a little beat up right now too. A challenging market, trying to retain your agents, trying to motivate your agents, stretching every dollar… It takes a lot of energy and a clear vision to lead your team through adversity. This is the most recent lesson learned from Tom Coughlin and the New York Giants.
So if you are in need of some inspiration, look to our football coaches of past and present. The principles of their leadership and passion can certainly be applied to our industry.
"The difference [between a good coach and an average coach] is knowing what you want, and knowing what the end is supposed to look like. If a coach doesn't know what the end is supposed to look like, he won't know it when he sees it." Vince Lombardi