I remember the conversation clearly. I was sitting in a hotel lobby in San Francisco right before the Christmas holiday talking on my cell phone to Joe Rand. He was telling me about an idea he and his team were working on. The more he told me, the more excited I got.
Ever since the news of the expanded and extended home buyer tax credit had been confirmed I had been encouraging any agent that would listen about the importance of getting information on this program out to their communities. The initiative Joe was explaining would do just that. I only wish I thought of this myself!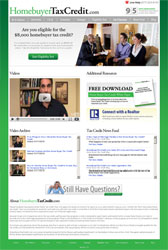 In early January, Better Homes and Gardens Rand Realty launched www.HomeBuyerTaxCredit.com. A site dedicated to answering consumers' questions about the tax credit, whether they qualify and what they need to do next.
The site features some great content including video and free downloads. But the center piece is the Eligibility Test. After answering 10 questions (which you can do is less than 2 minutes), you are then moved onto the next section which determines if you qualify for the first time home buyer tax credit or the move up tax credit. With just a couple minutes of time invested you know whether you qualify or not. For a consumer this tool is very valuable.
Many buyers will procrastinate to the last minute to take advantage of the home buyer tax credit. When they are ready they will need information quickly and will turn to the Internet to find that information. HomeBuyerTaxCredit.com is just the tool to assist buyers and real estate professionals along the way. The site is unbranded and is a valuable resource regardless of which company or brand you are associated with.
Congrats to Better Homes and Gardens Real Estate Rand Realty for a great idea and powerful execution.