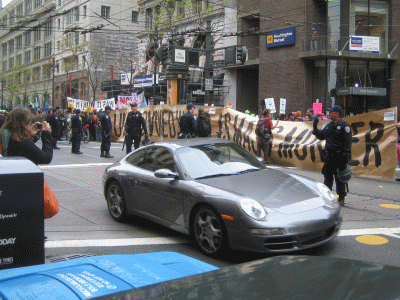 A business trip to the West Coast always seems to be more exciting for some reason than trips to other parts of the country, and my trip to California last week was no exception. As I landed in San Francisco armed with a schedule that would exhaust my "Genex" team, I was promptly informed that Market Street and several of the surrounding streets were closed because of a war protest. Of course, that was the area I needed to get to quickly for the first of a series of meetings that day. As it turned out, last Wednesday was the five-year anniversary of the war in Iraq, and where better to protest than downtown San Francisco. Being Canadian, I always defer to the fact that because I can't vote, I don't really have a strong opinion one way or the other on political issues. Of course, that is not entirely true, but that is my story and I am sticking to it.
What I will say is that in true San Francisco fashion, it was a peaceful protest, with more police officers than protesters, and more paddy wagons than I had ever seen in my life. One of the things that I like about San Francisco is that everyone is treated the same (the homeless people get paychecks from the city) … and the proof is in this picture – just because you drive a Porsche doesn't mean you are exempt from getting caught in the middle of a protest with no way out …

I carved out time to have a quick lunch with Brian Boero and Marc Davison of 1000 Watt Consulting to get a reality check from them on the direction that we are headed with the brand's launch, and see who they think we should be talking to regarding new stuff that we might license. Brian and I have known each other since his days as president at Inman News, and I think Marc and I knew each other in a previous life. He is one of those people to whom you feel an immediate connection. Now, do you think these two guys could be any more opposite? But they both have great minds, and it is always a pleasure spending time with them.
That afternoon, I drove out to "The Valley," as in Silicon Valley, to visit the new offices of Move.com. The purpose of the meeting was to look at what a strategic partnership might look like for BH&G. The Move people are building some very cool tools. In fact, Move is going through what new president Lorna Borenstein refers to as a "transformation." And what a transformation it is, starting with Lorna herself as the new sheriff in town, who brings a wealth of technology knowledge and discipline from Yahoo!, eBay, and years of practicing law… I would like to suggest that under Lorna's leadership, we will see Move and Realtor.com become a formidable player in the real estate dot.com space. Of course, some might think I have a biased opinion, as Lorna is a fellow Canadian; in fact, we were born in the same city – Montreal. But wait, there is more … Move has built an environmentally friendly office space, complete with recycled tables and carpet, and room for more than 100 employees. There is something big going on … and it feels like we want to be part of it!
Stay tuned for Day 2 …