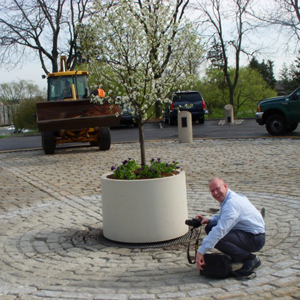 Posted by Kevin Doell
For Earth Day at the Realogy HQ, our employee environmental committee (dubbed "Task Force Cool") is doing a bunch of small things that we're hoping to make a difference with. We added battery and cell phone recycling points. We're passing out travel mugs that carry a discount at the cafeteria. We've got lunch totes. We're running an employee electronics recycling drive. And we have our "tree."
For those of us who set it up, the running joke is that it's our Charlie Brown Earth Day Tree. It's not quite the biggest specimen, and considering that it's sitting in a depression where the fountain once stood, its stature seems even more diminished. I even thought about taking its photo from a more complementary angle.
But just as I once felt bad for Charlie Brown's tree, I started feeling bad about my treatment of our own tree. In reality, it's actually very pretty. And after all, what really matters is the impact, not the size.
That "teenie" tree is doing a big job. Instead of running our fountain for the next six months and burning up countless thousands of watts of energy and gallons of some chemical to keep it all clean, the tree simply stands there in its quiet beauty and makes a statement that little things can have a big effect. With the energy savings, we are also able to drive some of our other green initiatives, thus extending the benefits of that one small tree.
So it goes with our efforts to change culture and attitudes in little ways that will collectively take us farther than we might have first thought possible.
Happy Earth Day!