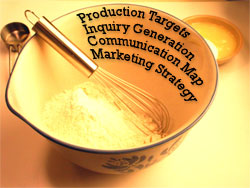 This week we launched our Better Homes and Gardens® Real Estate Planning for Profit program. This program is focused on providing our agents with a system to develop their personal written real estate business plan — something the majority of agents desperately need, but don't have.
Keeping in line with the Better Homes and Gardens magazine formula, we've created our Planning for Profit: Getting Started program like a recipe. When you are cooking from a recipe, the first thing you do is gather all the necessary ingredients. Then you begin mixing them together in just the right amounts. Along the way, you make adjustments to get your preferred outcome.
In the Planning for Profit: Getting Started program we've identified four ingredients for a successful real estate agent business plan.
Set your production targets
Identify your inquiry generation methods
Develop your communication map
Plan your marketing strategy
Business planning is a full-course meal. The above ingredients mix together to make a great appetizer, but there's more. We'll launch the main course of our program called Planning for Profit: Executing your Plan as a follow up to the Getting Started program.
My personal quest is for every Better Homes and Gardens Real Estate agent to have a written business plan.