Millennials are looking to buy real estate in full force. Born between 1981 and 2000, this young group now comprises 34 percent of the 2014 homebuying population, according to the National Association of Realtors®. They are flocking to urban areas, specifically cities with dynamic culture and diverse residents. A survey from the Urban Land Institute listed the cities of Denver, Seattle and Minneapolis/St. Paul as having the largest growth of millennial homebuyers. But just because your city isn't on the millennial map yet, it doesn't mean that Gen Y isn't interested. According to Nielsen, 40 percent of Millennials are interested in living in an urban area at some point in their life. But remember, many Millennials were hit with the recession, so they're also money-conscious. This combination of austerity and interest in vibrant cities makes millennial homebuyers the perfect clients for small cities or up-and-coming urban areas, where homes are less expensive but the community has vibrant art and culture.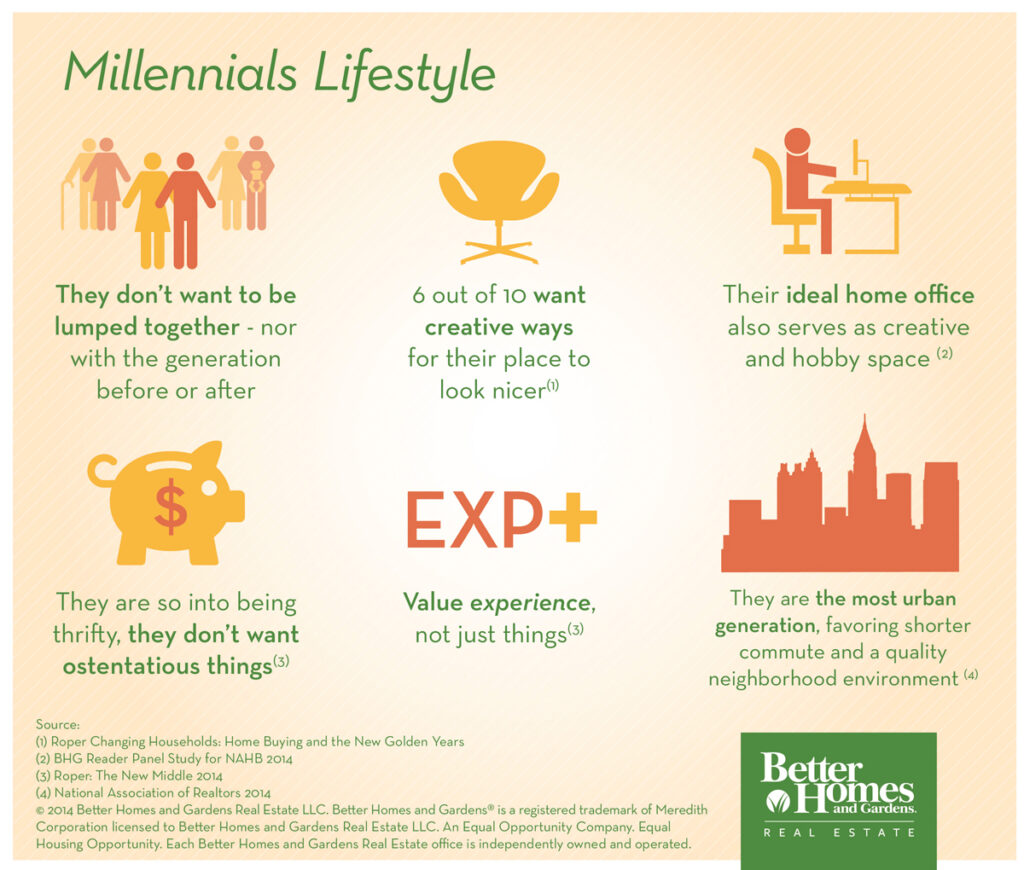 Impress with media
Many people imagine this demographic with their hands glued to iPhones, scanning Facebook and Twitter for trending topics and news and that's not exactly false. A joint study by Google and the National Association of REALTORS® stated that 89 percent of Millennials start off their search for homes using a mobile search engine, which means that they'll also research the city online as well. Research what "best of…" rankings your area has received or other interesting online articles and save them to forward to clients. Follow your local arts and culture websites to get a grasp on events that are going on. Share that information with your clients and social media followers.
Don't just sell, engage
Millennials grew up with television, print media, and now online advertising, so they're more wary of traditional sales methods. It's vital to show them the authentic culture of your community. According to Nielsen, over half try to buy socially responsible and local products, so start a day of tours off with a meeting at a local restaurant or café to introduce your Gen Y clients to the vibrancy of the community before showing them homes. Ask your clients about their hobbies and passions and share some knowledge on local goings-on. For example, if they are big craft brewing fans, tell them about a brewery or bar with unique beer selections.
Everything old is new again
Architect Peter Calthorpe coined the term "New Urbanism" to describe "shaping the built environment," or adding features that promote walkability and reinvigorate the arts and culture of previous suburban neighborhoods. Features like cyclist friendly streets and increased public transportation boosted Portland and Miami's suburbs, and will interest your young buyers. According to Nielsen, 63 percent of Millennials would like to live in mixed-use areas, like apartments or condos with shops below, so focus on residential-commercial listings, or homes with a shopping center within walking distance. Millennials invest in their communities, making them excellent homebuyers. Introducing these buyers to areas of your town with artistic and cultural flair will inspire their socially-conscious views and allow them to picture themselves thriving and making a difference.