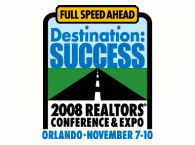 What an agenda.
This morning at 10:00 a.m. Sherry will be giving a keynote address at the Unchained Orlando Marketing Conference sponsored by the Bloodhound Blog guys. That's taking place at the Crowne Plaza Hotel at the Orlando Airport.
Later in the day, Sherry will running a program, "Building and Managing a Network of Networks,"  at the NAR Conference. That presentation takes place from 2:30 – 4:00 in Room W330D in the West building. Sherry's going to take the audience from the "tried and true" to the entirely new world of social media networking.
To top it off, this evening at the RISMedia PowerBroker dinner, Sherry has the honor of introducing one of the greatest Olympic athletes of all time, 9-time GOLD medalist, Mark Spitz.
Additionally, we've got a new spot in the Realogy booth #2816.
As Sherry would say, "Awesome!"