As social media continues to evolve so do the tools.  Stepping up to the plate with a fierce vengeance is the new social media darling Pinterest.  Haven't heard of it?  Let me give you a quick description before we dive into the "why" behind using Pinterest within your business.
What is Pinterest
Pinterest is a simple way to capture and save any picture you find on the web.  Now before you think it is just another version of Facebook, let me explain.  Pinterest is at its core a visual experience.  It takes magazine clipping online by offering a way to explore the web, consolidate your favorites and then share your eye-catching photos with your network of followers.
While Facebook has a wall, Pinterest has "boards" that are nothing more than buckets of similar content.  For example, you might create a board titled "Kitchen and Bath Designs" and then add content by pinning (capturing) pictures of kitchens or bathrooms that you find attractive.  As you pin items onto your boards, anyone following you is able to see that pin and either LIKE it (sound familiar?), comment on it or re-pin it onto their own board.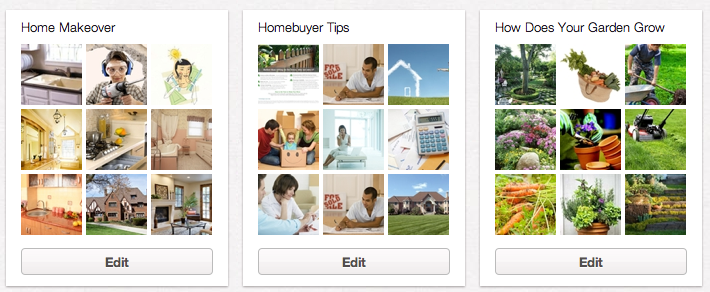 Being used to capture pictures and articles on everything from planning a wedding to your next vacation; Pinterest has an endless amount of uses!
Why Use Pinterest for Business
If you are currently using Facebook, Twitter or LinkedIn for business marketing, Pinterest is a new tool that you will want to strongly consider.  Growing at lightning speed, Pinterests numbers are impressive to say the least.  According to recent statistics, Pinterest has over 10 million registered users, nearly 12 million monthly unique visitors each month and over a fifth of their users connecting through Facebook.
Oh, and did I mention that each "pin" leads you directly to the website where the pin originated?  Think of the possibilities!
Pinterest Marketing for Real Estate
Tell a story about your city – This is a great way to use pictures you have taken around your city and highlight some of your favorite locations. Give buyers relocating into the area a good look at what certain neighborhoods or communities in your city look like.
Home Styles & Architecture – Architecture and style are so different from one state to the next. Whether the homes in your area are New England colonial, Spanish Revival or Cape Cod, providing pictures will allow buyers to connect with the look and feel of your city.
Historic Locations – Historic locations such as buildings, churches and monuments are a fun way for anyone new to your area to better understand the history.  What "insider" details can you share that offer unique insight into your towns past?
Local Business Spotlight – Create a board that shares your favorite vendors such as local supermarkets, gas stations, hairdressers, pet store, auto repair, plumbers, electricians and more!
Top Things to Do in Your Area – Spotlight fun things to do or attractions to see within your area. Choose the top sites exclusive to your neck of the woods.
First Time Homebuyer Tips – Pin your blog posts or links back to pages on your website.  What questions do first time homebuyers have?  Answer those on your blog and you have ongoing content for this Pinterest board!
Tips to Prepare Your Home For Sale – If you are selling a home, what do you need to know?  Help prospects make an informed decision by answering questions about prepping their home for sale, how the appraisal process works, and specifics about the community and how to correctly price their home.
Curb Appeal – Curb appeal means different things to different people.  Pin colorful landscapes, cascading waterfalls and lush gardens to display the various looks within your area.
Staging Tips –  Pin pictures of stunning before and afters that encourage re-pinning (think of retweets on Twitter) and paint a vivid picture of what a sellers home should look like to offer maximum appeal to buyers.
Mortgage process – The stages of the mortgage process can leave anyone swimming in a sea of questions.   Offer answers to FAQ about the loan application process, what to avoid and how to make an informed decision.
Guide to your city – Create a guide by pinning your favorite parks, museums, neighborhood restaurants and nightlife.  This can be anything you deem awesome enough that someone new to the area would want to visit.
Pet friendly locations – As a dog lover and someone who frequently travels with my two little guys, I am always on the lookout for pet friendly places to hang out.  Pin restaurants, hotels, coffee shops, bars, dog parks and any other pet friendly location in your community.  Believe me; they will love you for it!
Decorating on a dime – Everyone is looking to save wherever they can these days.  Offer home decorating "do it yourself" tips that are easy and affordable.  You can also pin shops within your area that sell unique but inexpensive home décor.
Home improvement ideas – From a complete kitchen makeover to DIY; pin home improvement projects that inspire and advise!
Gardening tips –  For new homeowners, learning basic gardening skills is important to the care and upkeep of their home.  Provide tips on how to cultivate a stunning garden and landscape.
How to make a move with children – If you look at moving as an exciting adventure full of fun and new possibilities, your children will be more apt to get on board.  Help clients moving into your area go through this change minus the drama by offering the how-to's of a smooth move.
Cool coffee shops in your area – As a self diagnosed coffee addict, I am always on the lookout for local coffee shops with a cool, funky vibe.  I love anything with big, comfy chairs and a quiet atmosphere. Where do you enjoy spending your time?  You can bet your clients will too!
Moving day tips –  When you're making a move, you can use all of the tips you can find.  From checklists to supplies, planning a move is a huge undertaking.  Pin tips on how to find free boxes, how to best pack breakables and how to budget for all moving expenses.
Things to do for free within your city – What sites can newcomers enjoy for free in your city?  Whether it's a museum or a beautiful garden in the heart of the city, pin colorful pictures of your favorite locations.
Pictures of annual activities – Pin pictures of popular annual events such as fundraisers, school events and town hall meetings that someone new to the area might be interested in attending.
Most importantly, have fun with it!  While we all know that using social media as a business-marketing tool is exciting; injecting 'you' into your social efforts is vital. Yes it is great to connect with your past clients and prospects in an environment where you lead the conversation, but simply "pushing" out business information is not enough.
Pinterest gives you one more way to find and connect with your target audience and offers a little insight into your personality. What are your likes, your hobbies, your passions?  Don't be shy, share!
Get Started!
Have you heard? Now anyone can join Pinterest without requesting an invite! Don't Forget!  Follow Better Homes and Gardens Real Estate on Pinterest!